The Avenida da Liberdade is a wide boulevard connecting downtown Lisbon with the northern districts. The street is lined with trees and decorated with fountains, statues and a large monument dedicated to WWI soldiers.
Passeio Público
After the earthquake of 1755, the Marquis of Pombal instructed architect Reinaldo Manuel to lay out a new garden promenade with flora, statues and fountains. The promenade, now occupied by the Restauradores square and the lower part of the Avenida da Liberdade, was known as the Passeio Público (Public Way). Despite its name, the promenade was far from public as only aristocrats were allowed access and a large wall prevented common people from entering. The wall was torn down in 1821, after the fall of the monarchy.
Avenida da Liberdade
Creation of the Avenue
In 1879 the promenade was renamed Avenida da Liberdade (Liberty Avenue). At the same time the promenade was redesigned as a prestigious boulevard modeled on the Champs-Elysées in Paris. The ninety meter (295 ft) wide street was completed in 1886.
Today the Avenida da Liberdade is dominated by car traffic but pedestrian zones one either side of the central road provide some respite for pedestrians. Trees provide ample shadow and the zones are embellished with mosaic pavements and small fountains. There are several statues on the avenue, mostly dedicated to Portuguese writers.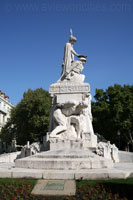 Monument to the Fallen
Monument to the Fallen of the Great War
About halfway towards the Praça Marquês de Pombal, near Rua do Salitre, stands the Monumento aos Mortos da Grande Guerra (Monument to the Fallen of the Great War).
This large monument, inaugurated in 1931, honors the Portuguese soldiers who fought in the First World War. The monument was created by the local sculptor Maximiano Alves. It shows a soldier being crowned on top of a pedestal which is supported on two sides by muscular figures.
Public Squares
Even larger monuments can be found on either end of the Avenida da Liberdade. An obelisk on the Praça dos Restauradores on the south end of the boulevard celebrates the liberation of the Portuguese from the Spanish in 1640. Towards the north the Avenue ends at the Praça Marquês de Pombal (Praça da Rotonda), where a tall column honors the Marquis of Pombal.
The Avenue Today
Soon after its creation in the nineteenth century, Avenida da Liberdade became a prestigious address, and grand buildings were erected along the street. In the first half of the twentieth century the street was very lively thanks to several movie theaters that opened here. Today it is much quieter, especially towards the north, and the street is now home to large hotels, office buildings and upscale fashion boutiques.