Lisbon's Oceanário is a large aquarium located in the Parque das Nações (Nations' Park), the site of the World Expo of 1998. More than 15,000 fish and marine mammals can be seen here, including the ever popular sharks.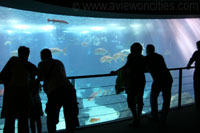 When the Oceanário opened in 1998 as the centerpiece of the World Exposition, it was the second-largest aquarium in the world. The aquarium is the most popular attraction in Lisbon's Parque das Nações, a modern neighborhood some five kilometers (3 miles) from downtown Lisbon.
The Building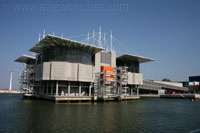 Oceanário
The Parque das Nações is home to a number of futuristic looking buildings that were constructed for the World Expo, and the Oceanário is one of the most conspicuous. Designed by the American team of Peter Chermayeff and Bobby C. Poole – architects specialized in the construction of aquariums – the building looks like a futuristic version of an oil rig platform. It is completely surrounded by water and can be reached from the pier by a covered bridge.
The Global Ocean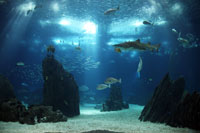 The main tank
The main highlight of the Oceanário is the central and largest tank, seven meters high (23 ft) and holding some five million liters of water. The tank is home to a wide variety of marine life from all areas of the globe. This variety is made possible due to differences in light penetration, temperature and other factors that allow fish from different habitats to coexist within the tank, which is aptly named 'Global Ocean'. Some one hundred species live here, from the impressive giant manta rays, zebra sharks and morays over the bizarre sunfish to the colorful butterflyfish.
More Habitats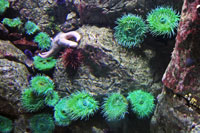 Anemones and starfish
Four smaller tanks in each corner of the Oceanário simulate the Atlantic, Pacific, Indian and Antarctic habitats. Besides numerous species of fish, there are also some mammals such as the ever-active sea otters and plenty of birds, including puffins, finches and the always entertaining penguins. The natural habitats have been painstakingly recreated; there are even palm trees and coffee trees in the tropical habitat.