The Portuguese parliament assembles in the Palace of São Bento, originally built as a monastery for the Benedictine monks. Behind the monumental Neoclassical facade lie magnificent rooms decorated with sculptures and paintings.
Benedictine Monastery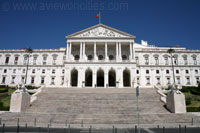 São Bento Palace
In 1598, the Benedictines started with the construction of a new monastery to accommodate their rapidly growing community. The monastery, known as São Bento da Saúde (St. Benedict's Health) was designed as a large rectangular structure arranged around four cloisters. In 1834, when religious orders were abolished, the government confiscated the property and installed the Portuguese parliament here.
Parliament Building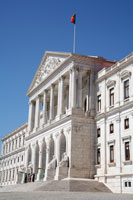 The portico
The building was quickly adapted to its new function, but after a fire in 1895 caused significant damage to the structure, it was decided to reconstruct the building. A Neoclassical design by Ventura Terra was chosen, and over the following decades the original monastery was completely transformed into a palatial parliamentary building.
Today, little remains of the sixteenth-century monastery, but one of the original four cloisters has been preserved.
Exterior
The most impressive aspect of the São Bento Palace is its monumental Neoclassical facade. The large central portico has five porches, surmounted by a balcony with thirteen Corinthian columns that support a thirty-meter wide pediment. The reliefs on the tympanum were created by the Portuguese sculptor Simões de Almeida. A central allegorical figure representing the fatherland is flanked by eighteen different figures, symbolizing different pillars of society.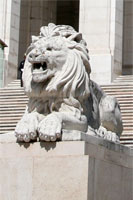 Lion statue
Two lions, sculpted by Raul Xavier, guard the wide stairway that leads to the palace's main entrance. Perched in front of the entrance are four marble statues representing Prudence, Justice, Strength and Temperance.
Interior
After passing through the portico, you enter the main atrium, formerly the site of a chapel. It is decorated with busts that portray Portuguese parliamentarians. Porches on the left-hand side lead to the palace's grand stairway, built between 1936 and 1937.
The largest and most opulent halls in the São Bento Palace, located on either side of the atrium, are the Senate Chamber and the Parliamentary Chamber. The Senate Chamber was built in 1867 after designs by the French architect Jean-François Colson. The semicircular hall with a glass and iron skylight has two balconies supported by colossal columns. The Parliamentary Chamber opened in 1903 after the original hall was destroyed by fire in 1895. Also semicircular in shape, this hall is decorated with large sculptures and a huge lunette painted by Veloso Salgado.
Garden
Behind the palace is a garden in French style with geometrically arranged flower beds laid out on a terraced slope. The garden is decorated with fountains, niches and statues of sphinxes.