Often overlooked by tourists, the Praça do Município is a quiet square in the Baixa district. It is bordered by the beautiful Paços Concelho, the city hall of Lisbon.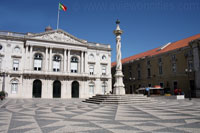 Praça do Município
The square was laid out in 1755, after an earthquake and tsunami had destroyed large parts of Lisbon. At the same time, a city hall was built here by Eugene Carvalho dos Santos, who was also lead architect of the nearby Praça do Comércio. In 1863, this building was completely destroyed by fire.
The City Hall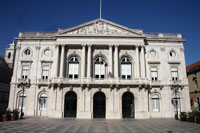 City Hall
The current city hall, seat of the Câmara Municipal (municipal chamber) of Lisbon, was constructed between 1865 and 1880. The neoclassical structure, designed by architect Domingues Parente da Silva, is one of the most elegant buildings in Lisbon. The main facade is decorated with sculpted ornaments and pediments. Its central pediment with relief sculptures is supported by double Corinthian columns. Inside is a large atrium with a magnificent marble staircase with large lampposts, designed by José Luís Monteiro.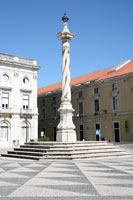 Pelourinho
The city hall is not only an important architectural masterpiece, it is also a significant political symbol. On October 5, 1910, the Portuguese Republic was proclaimed from the balcony of the city hall, an event that is celebrated annually at the square.
Pelourinho
On a platform in the middle of the Praça do Município stands an eighteenth-century pillar. The pillar, locally called pelourinho (pillory), symbolizes the enforcement of justice.
Its frivolous design, consisting of three twisted fluted columns topped by a globe, belies the original purpose of pelourinhos. Condemned criminals were tied to the columns and often whipped in public.