The Aqueduto das Águas Livres is a nineteen-kilometers-long (12 mi.) aqueduct that was built in the eighteenth century to supply fresh water to the city of Lisbon. The aqueduct spans the Alcântara valley with a series of thirty-five long arches.
Water Supply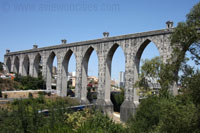 Aqueduto das Águas Livres
In the early eighteenth century, clean drinking water was in short supply in the rapidly expanding city of Lisbon.
In response to this problem, king John V decided to build an aqueduct that would bring water from the Mãe d'Água well in the hills around the city to a reservoir in Amoreiras, near downtown Lisbon. The project was funded with taxes levied on food products such as meat and olives.
The Aqueduct
Construction on the nineteen kilometer long aqueduct started in 1731. Designed by engineer Manuel da Maia, the aqueduct was one of the largest architectural projects of its time, and the impressive 941-meter-long bridge that spans the valley of Alcântara was a marvel of engineering. The central arch, 29 meters wide and some 65 meters (213 ft.) above ground, was at the time the largest arch in the world.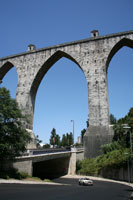 One of the arches
The main span across the valley was built by José Custódio Vieira and completed in 1744. It would last until the nineteenth century before the whole network of water lines with several branches – fifty-eight km in total – would be completed, but already in 1748, just four years after the completion of the main span, water started flowing through the aqueduct.
The aqueduct would soon prove to be solidly constructed; when the earthquake of 1755 with a magnitude of up to 9 on the Richter scale damaged most of Lisbon's buildings, the aqueduct survived unscathed. It would continue to provide Lisbon with water until 1973.
Viewing the Aqueduct
Today, the aqueduct is managed by the Museu da Água, which occasionally organizes tours of the aqueduct. If you want to admire the impressive arches of the aqueduct across the Alcântera valley, you can walk to the Calçada da Quintinha street or go to the Campolide train station where you have an almost unobstructed view of the main span respectively from the south and the north side.