The Sé, the Cathedral of Lisbon, is one of the oldest buildings in the city, originally constructed in the twelfth century shortly after the reconquest of the city. The cathedral, with its sturdy Romanesque towers, is one of the Lisbon's most iconic landmarks.
Reconquista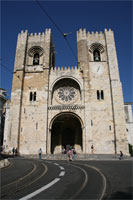 Se Cathedral
Construction of the Sé started around 1150, only three years after the city was reconquered from the Moors during the Second Crusade. Shortly after the victory, the Englishman Gilbert of Hastings was named bishop of the city of Lisbon. With the support of king Afonso Henriques he set out to purify the city and build a Catholic Church at the site of a mosque.
The Church
Despite many alterations over the centuries, the church has retained its original Romanesque character. Its current appearance stems mostly from the restoration work completed in the early twentieth century, when Baroque decorations from the eighteenth century were removed and the rose window was reconstructed. Like most churches in Lisbon, the Sé suffered significant damage during the disastrous earthquake of 1755, when the south tower collapsed and much of the interior was destroyed.
Interior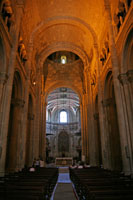 The main nave
The interior, laid out as a Latin cross, is rather austere. A central Romanesque nave covered with a barrel vault is flanked by two aisles. The chapels along the aisles and the ambulatory are Gothic in style. There are several tombs in the cathedral, the most notable of which is the beautifully sculpted tomb of Lopo Fernandes Pacheco and his wife in the seventh chapel, the Capela de Santo Ildefonso.
On the east side of the cathedral is the tranquil Gothic cloister, built in the late thirteenth century with beautiful cross-vaulted galleries. On the south side of the cathedral is the treasury which contains a collection of relics, silver, statues and manuscripts. Many of the cathedral's original treasures were lost in the earthquake of 1755.
A silver casket in the sacristy is said to hold the remains of St. Vincent of Saragossa, patron saint of Lisbon. According to legend, ravens protected the saint's body from wild animals after his death in the early fourth century. They allegedly even guarded the boat that transported his body in 1173 from Cape St. Vincent to Lisbon, and made a nest in one of the cathedral's towers after the arrival. Ravens became a symbol of the city of Lisbon, and descendants of these ravens lived near the cathedral until 1978.