The Torre de Belém (Belém Tower) is undoubtedly Lisbon's most iconic landmark. The tower was built in the sixteenth century in the Tagus river to control the entrance to the city from the sea.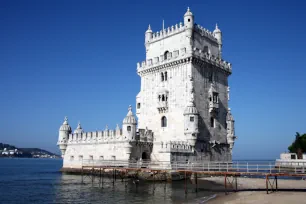 The idea to build a fortress near Belém was launched in the fifteenth century by King John II, who commissioned the construction of a tower in the river Tagus as part of a larger defensive bulwark. By the time plans for the tower were completed, the king had died, and the project was shelved.
Construction
The project was revived in 1514, during the reign of his successor, King Manuel I. A new design for the fortified tower was created by Francisco de Arruda and construction started the following year near the harbor of Belém, the starting point of many of the Portuguese explorers during the Age of Discoveries. The tower was completed just six years later, in 1521. At the time the tower was known as the Torre de São Vicente (Tower of St. Vincent) as the king had put the tower under the protection of St. Vincent, Lisbon's patron saint.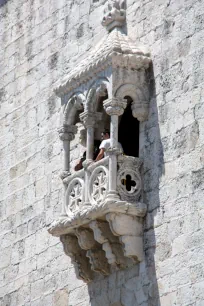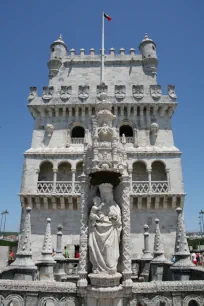 Manueline Style
The elegant tower was designed in the new Manueline architecture style, named for King Manuel I. The Manueline style is a Portuguese variant of the high Gothic style found in Northern Europe but with more exuberant decorations and nautical-themed ornaments. The style reflected Portugal's self-confidence and wealth that was a result of the Age of Discoveries, when explorers established colonies and created new trade routes that brought riches from India and other far-away destinations to Lisbon.
The Tower
For a fortress, the tower has a surprisingly rich exterior with beautiful sculpted balconies and fine limestone ornaments, a testament to the wealth Portugal experienced during the Manueline era.
The tower consists of a six-sided base with Moorish style turrets at each corner. A battery of canons were placed here. The cross-vaulted basement was later used as a prison. The terrace above the basement is decorated with a statue of Mary and child that is meant to protect seafarers.
The upper floors of the tower contained the armory and private residences. Most interesting are the royal residences on the second floor, featuring a beautiful Italianate loggia with sculpted columns and several balconies with intricate carvings. On top of the upper floor is another terrace, which offers beautiful views over Belém and the Tagus river.
The Torre de Belém was originally completely surrounded by water, but over the centuries the Tagus river receded, and a section has silted up. The tower is now easily accessible from the riverbank by a walkway that brings visitors right to the entrance.