The Miradouro de Santa Luzia is the most famous of the many miradouros (look out points) in Lisbon. Situated on a hilltop in the city's old downtown area, the miradouro offers beautiful panoramic views over Alfama and the Tagus river.
Miradouros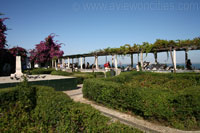 Miradouro de Santa Luzia
Lisbon's topography, with its many steep hills, allows for many great look out points with magnificent views over the city. Many of these so-called miradouros are in the form of public terraces or plazas, where pedestrians can let their weary feet rest while admiring the views. The miradouro most popular with tourists is undoubtedly the Miradouro de Santa Luzia, a relatively small but romantic looking terrace embellished with plants and azulejo panels (ceramic tiles).
Azulejos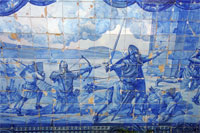 Azulejo panel
The Miradouro de Santa Luzia is named for the small church of Santa Luzia – also known as the church of São Brás – that overlooks the belvedere. The east wall of the Santa Luzia church, facing the terrace, is decorated with historic panels made of blue colored azulejos. One panel shows the Terreiro do Paço (Palace Square, now the Praça do Comércio) before the earthquake of 1755. The other panel shows crusaders besieging the St. George's Castle during the reconquest of Lisbon in 1147.
Views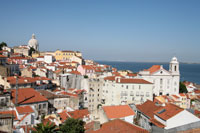 View from the miradouro
From the miradouro you have a beautiful view over the old Alfama district and the river Tagus. Between all red roofed and white painted houses you can recognize landmark buildings such as the church of Santo Estâvão, the dome of the National Pantheon and the onion shaped spires of the São Miguel church.
The Garden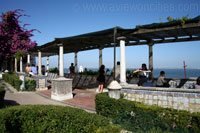 Pergola
Visitors admire the views from under a long colonnaded pergola covered in Bougainvillea. The garden in front of the pergola is divided into small flower beds bordered by low hedges. Stairs take you to a lower terrace with a wading pool and another pergola. Here you have similar views of the area, but through decorative iron round windows.