The National Pantheon in Lisbon, originally built in the seventeenth century as the Church of Santa Engracia, is the last resting place for many of Portugal's most famous citizens, including presidents and artists.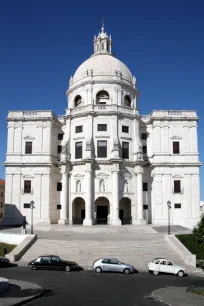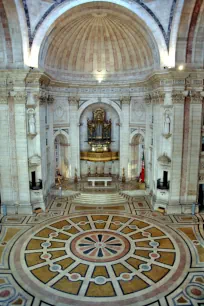 A never ending construction
Already in the sixteenth century, a church dedicated to Saint Engracia was built here. In 1630 this church was torn down and construction of a new church started. But before it was completed, the new church collapsed during a thunderstorm in 1681.
Without delay, a new design was created by architect João Antunes and construction continued until his death in 1712. Due to lack of funding, construction ground to a halt, and it took so long to complete the church that the Portuguese started to use the expression 'como las obras de Santa Engrácia' (it is like building the Santa Engracia) to describe a job that never seems to end.
A Church becomes a Pantheon
In 1916, during the first Republic, the government decided that the church – which still didn't have a roof – would become a national pantheon, where heroes of the nation would be enshrined. It took another fifty years before the church was finally completed, and the first tomb was transferred from the Jerónimos monastery.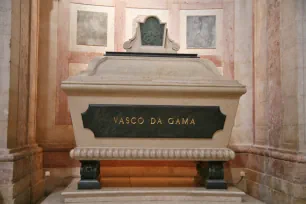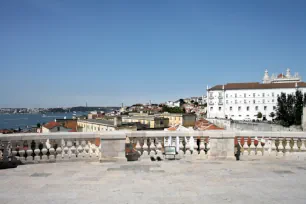 Today many illustrious Portuguese are entombed here, including several presidents and other political figures such as the former opposition leader Humberto Delgado, who was killed by the secret police of dictator Salazar. Prominent cultural figures – mostly writers – are also entombed here; one of the more recent is Amália Rodrigues, a famous fadista singer.
Portugal's most famous explorer – Vasco da Gama – is honored here as well with a cenotaph. His actual tomb is in the Jerónimos Monastery.
Architecture
The pantheon is a magnificent example of Portuguese Baroque. The building has an octagonal shape with a floor plan laid out as a Greek Cross. The interior is very light and colorfully decorated with several types of marble. The main facade is dominated by four large Tuscan columns. The building is crowned with a magnificent dome, completed in 1966.
Roof
The galleries and the rooftop are open to visitors and offer spectacular views. From the galleries you can see the beautiful pattern of the marble floor. The terrace at the foot of the dome offers wide views of the surroundings, including the old Alfama district and the Tagus river.