The Gulbenkian Museum is an outstanding museum that displays art from 2000 BC to the early twentieth century. The collection was donated by Calouste Gulbenkian, a philanthropist and patron of the arts of Armenian descent.
The Gulbenkian Foundation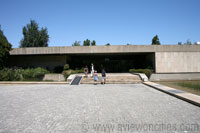 Gulbenkian Museum
In his last will Calouste Gulbenkian bequeathed the Portuguese state with his fortune and his large collection of artwork.
In 1956, one year after his death, the Gulbenkian Foundation was created which according to his will, supports the arts, science, education and social welfare. Today the foundation supports a large number of cultural projects and cultural centers and it organizes activities and temporary exhibitions.
The foundation is headquartered in a modern complex set in a lush garden. It has a large library, an open air auditorium and two museums: the Gulbenkian Museum and the Modern Art Centre, which opened in 1983.
The Museum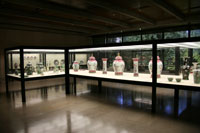 Chinese vases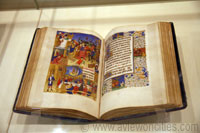 Medieval Book of Hours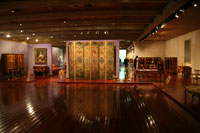 European art
Gulbenkian's collection of ancient art is housed in a modern purpose-built museum from 1969, with ample space to display the collection without overwhelming the visitors.
Most of the about three thousand pieces of art were collected by Gulbenkian himself, who had an excellent taste. The art, which ranges from tapestry, ceramics, jewelry and glassware to paintings, sculpture and furniture is displayed in spacious well lighted rooms and divided into two circuits.
The first one is devoted to Egyptian art, Classical art and objects from the Middle and Far East. Highlights include Egyptian scarabs, a Greek Vase, Roman jewelry, Assyrian bas-reliefs, Persian tapestries, Chinese porcelain and Japanese paintings.
The second circuit shows European art, with an emphasis on French decorative arts. Of note are the medieval illuminated books, a collection of paintings from Flemish, Italian and French masters, and a collection of eighteenth-century French furniture, of which Gulbenkian was particularly fond. A whole room is dedicated to the Art Nouveau jewelry of René Lalique, a designer who created jewels that were often inlaid with precious stones and decorated with gold or enamel.
Calouste Sarkis Gulbenkian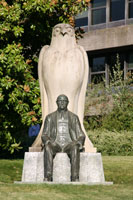 Statue of
Calouste Gulbenkian
Calouste Gulbenkian was an Armenian petrol magnate who was born in the Ottoman empire in 1869.
His collection started with the purchase of old coins at a market when he was just fifteen years old. He acquired his fortune with the exploration of oil in the Middle East and in 1928 he obtained the nickname 'Mister 5%' after he sold his company to four of the largest oil companies in the world in return for five percent of the stocks.
Gulbenkian spent much of his life in London and Paris, but during the Second World War he settled for Lisbon – Portugal remained officially neutral during the war – where he lived until his death in 1955.
Throughout his life Gulbenkian collected more than six thousand pieces of art. During the last twenty years of his life he spent much time deciding where his collection would be displayed. He initially planned to hand it over to the National Gallery in London and later discussions were initiated with the National Gallery of Art in Washington, DC but no agreement could be reached. After his death, in 1960, the collection was brought to Portugal and a dedicated museum finally opened in 1969. Gulbenkian himself is honored with a large monument in front of the headquarters of the Gulbenkian Foundation. The monument shows him seated in front of a giant falcon.