The Jardim da Estrela (Estrela Garden) is one of the most popular parks in Lisbon. It was laid out in the nineteenth century in a romantic landscaped style, with plenty of exotic plants and a central pond.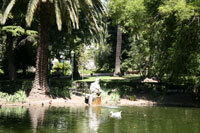 Jardim da Estrela
The about five-hectare-large park is officially known as the Jardim Guerra Junqueiro, in honor of poet and politician Gerra Junqueiro, who was a key figure in the downfall of the Portuguese monarchy and the establishment of the republic in 1910.
History
In the 1840s the governor of Lisbon, António Bernardo da Costa Cabral, recognized the need for a public park in the densely populated city. Thanks to a donation by a wealthy baron, the governor was able to acquire a large domain owned by Antonio Jose Rodrigues opposite the Estrela Basilica.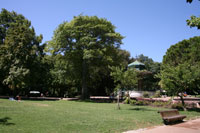 Construction of the park started in 1842, but due to the outbreak of a war and financial difficulties, the park wouldn't open to the public until 1852.
The Park
The Jardim da Estrela is one of the most beautiful parks in Lisbon, laid out in a landscaped style with plenty of exotic trees, cacti, flower beds and a pond with fountains. The park is especially popular with locals who come here during weekends to socialize, stroll along the paths or have a drink at the café.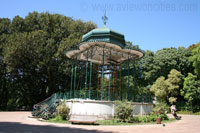 Bandstand
The park was designed around 1850 by gardeners Bonard and João Francisco, and it was originally embellished with several romantic structures such as a gazebo and a Chinese pavilion.
These structures are no longer there; instead, the park is now decorated with plenty of sculptures and a nineteenth-century bandstand. The bandstand, a beautiful wrought iron pavilion, was originally located at the site of the current Avenida da Liberdade – Lisbon's central boulevard – but was moved to the park in 1936.
Statuary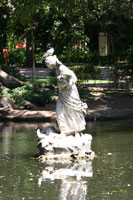 Guardadora de Patos
After the creation of the Portuguese Republic, several statues were installed in the park. The most expressive is that of a farmer, created in 1913 by sculptor Costa Mota. Another interesting statue shows a female nude figure in marble, known as 'O Despertar'; it was created by the Portuguese sculptor Simões de Almeida.
The most famous statue in the park is probably that of the Guardadora de Patos (keeper of the ducks). The limestone statue, a replica of a marble statue from 1914, shows the protagonist of a popular fairy tale.
Nearby is a small fountain depicting an allegorical figure with a dog spouting water from its mouth. There are also a couple of busts honoring Silva Taborda and Antero de Quental, respectively an actor and a poet, and a statue of João de Deus, another Portuguese poet.