Largo do Chiado is a square situated in the fashionable Chiado neighborhood, an area known for its theaters, shops, bookstores and cafés. This was once the literary center of the city, and it long had a bohemian character.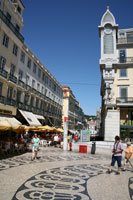 Largo do Chiado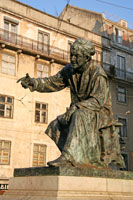 António Ribeiro
The literary history of Chiado goes far back in time: the neighborhood is said to be named after a sixteenth-century poet, António Ribeiro, who lived in the area and was nicknamed 'Chiado'.
Statues
A statue of António Ribeiro stands at the center of the Chiado Square. Ribeiro, shown seated, became a Franciscan monk but later renounced monastic life and moved to a street in Chiado, now the Rua Garrett. Ribeiro is known for his poems and satirical dramas. He was also popular in his time for his imitations of other people.
Several other writers are honored here with statues. A bronze figure of Fernando Pessoa – considered one of the greatest Portuguese writers – is sitting at a table in front of the café Brasileira. The café – now popular with tourists – has a beautiful interior full of character. It was once a favorite meeting place of Pessoa and other Lisbon intellectuals.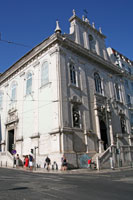 Igreja do Loreto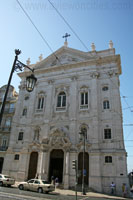 Igreja da Encarnaçao
Churches
Two Baroque churches stand opposite each other at the Largo do Chiado. One is the Italianate Igreja do Loreto, originally built in the sixteenth century but later rebuilt twice: first in 1676 after a fire destroyed a large part of the building and later again in 1785, after the earthquake of 1755 and subsequent fire had caused significant damage to the church. The facade is decorated with a Baroque portico and two niches holding statues of saints.
Opposite the Igreja do Loreto is the Igreja de Nossa Senhora da Encarnaçao, built in 1708 but rebuilt after it was almost completely destroyed by the 1755 earthquake. The church was restored in 1784 by the architect Manuel de Sousa. The interior of the church is decorated with azulejos.
Largo do Camões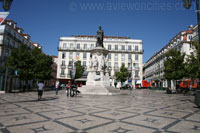 Largo do Camões
Largo do Chiado flows into another square, the Largo do Camões. And staying with the literary theme of the neighborhood, this square is also named after a famous writer: Luís Vaz de Camões. Camões, a contemporary of António Ribeiro, is considered Portugal's greatest poet.
He is honored with a large monument erected here in 1867 and created by the Portuguese sculptor Victor Bastos. It shows a bronze statue of the well-travelled poet standing atop a large pedestal. The pedestal is surrounded by more statues depicting literary and cultural figures from the fourteenth to the sixteenth centuries.