The Botanical Garden (Jardim Botânico) of the Lisbon university has an important collection of plants laid out over an area of four hectares (10 acres). The garden is especially noteworthy for the many cycads, palm trees and fig trees.
History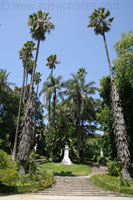 Staircase
The Lisbon university started with the study of botany in the early seventeenth century. In 1843 plans were made to create a scientific garden to help researchers and students. This would lead to the creation of the Botanical Garden thirty years later, in 1873.
Thanks to Portugal's vast empire, the first gardeners – the German Edmund Goeze and the Frenchman Jules Daveau – were able to collect plants from all over the world. With its mild climate, Lisbon proved to be a fertile ground for a wide diversity of plant species, and the botanical garden soon became one of the most important in Europe.
The Garden
Largo de Cima
The garden is divided into an upper and lower level, connected by a long staircase flanked by tall palm trees.
The upper garden is laid out in a rather formal way, with small plant beds arranged around a central pond, the Largo de Cima. Several busts in the garden honor scientists. The upper garden is also home to a herbarium and to the east it is bordered by an old astronomical observatory. The current layout of the garden is a result of a reorganization of the plants in the 1940s, when the different species were organized in ecological groups.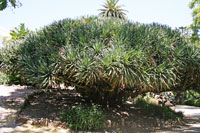 Dragon tree
The lower level has a more natural layout, with winding paths, two ponds and a small creek. Here visitors find plenty of large exotic plants from around the world such as the Japanese bamboo, Chinese metasequoia, colorful South African coast coral trees and South American Floss silk trees.
But the main attraction is the garden's impressive collection of cycads, a group of conifers that have been around for more than 250 million years. It is presumed that they were a source of food for the dinosaurs during the Mesozoic era. Also of interest on the lower level are the succulent garden – with plenty of cacti and a huge Dragon tree – and a butterfly house.