The Basilica da Estrela is one of the most important churches in Lisbon. The domed basilica was built in the late eighteenth century as one of the last masterpieces created by architects of the Mafra school.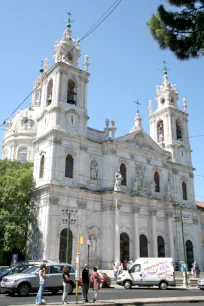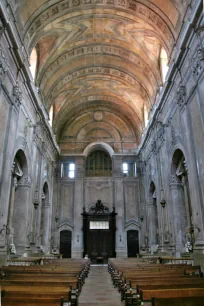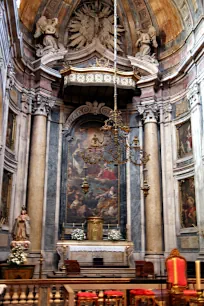 Construction
Construction of the basilica was commissioned by Queen regent Dona Maria I of Portugal, who had sworn to build a church if her wish for a male heir to the throne was fulfilled.
The church was erected between 1779 and 1790 to a design by Mateus Vicente de Oliveira, an architect from the Mafra school. After his death in 1786 construction was completed under the lead of Baroque architect Reinaldo Manuel de Sousa. The Estrela Basilica was consecrated to the cult of the sacred heart of Jesus, hence it is also known as the Basilica of the Sacred Heart.
Architecture
The church, modeled after the Basilica in Mafra, has a mixture of neoclassical and Baroque architecture. The front facade has a central pediment flanked by two clock towers.
Below the pediment, which is supported by tall Corinthian columns, are allegorical statues depicting Faith, Adoration, Freedom and Gratitude. The most impressive part of the building is the large dome, which thanks to the church's position on top of a hill can be seen from afar. The dome is accessible to visitors and offers great views over the city.
Interior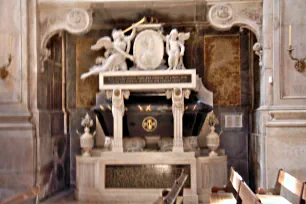 The church has a Latin cross floorplan with a central nave and barrel-vaulted ceiling decorated with colorful Portuguese marble. Highlights include the altarpiece, created in 1870 by the Italian painter Pompeo Batoni, and the richly decorated marble tomb of Dona Maria I (†1816), Queen of Portugal from 24 February 1777 until her death while in exile in Brazil.
The church also has an intriguing nativity scene created by sculptor Joaquim Machado de Castro (best known for his equestrian statue at the Praça do Comércio). The nativity scene consists of more than five hundred statues made of cork and terra cotta.