The Igreja de São Roque (Church of St. Roch) was built in the sixteenth century by the Jesuits who had a tradition of creating rich interiors, and Lisbon's São Roque church is no exception.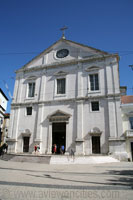 São Roque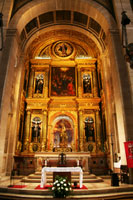 Chancel
Construction of the church started in 1565 and by 1573 most of the building was complete except for the barrel-vaulted roof that the architect, Alfonso Álvares, had planned. About ten years later however, it was decided to build a flat wooden roof instead. Construction was finally completed in 1588 under the supervision of the royal architect Filipe Térzi.
Jesuits
The church was built for the Jesuits, a very conservative religious order that had a firm grip on the country's education. São Roque is one of the oldest Jesuit churches in the world and the oldest in Portugal.
In 1759 the marquis of Pombal, the enlightened prime minister of King Joseph I, managed to expel the Jesuits from the country and the Church of São Roque was handed over to the Santa Casa da Misericórdia, a Portuguese charity.
A Sumptuous Church
The exterior of the São Roque is deceptively sober; once you enter through the central portico, you'll be welcomed by an abundance of marble and gilded sculptures, large paintings, gilded woodwork, azulejos and precious relics. The wooden ceiling is richly painted with religious scenes and trompe l'oeil domes.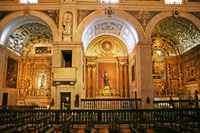 Side chapels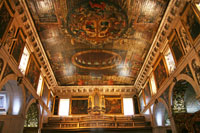 The ceiling
The church has a single nave, with eight lavishly decorated side chapels. The large altarpiece in the chancel is just as richly decorated with paintings, Corinthian columns and gilded ornaments. The most opulent of the chapels is that of Saint John the Baptist, which was built in Rome and transported by sea to Lisbon where it arrived in 1749.
Museum
Near the entrance is a small museum that occupies part of the former residences of the Jesuits. The museum exhibits religious objects from the sixteenth and seventeenth centuries, including vestments and treasures from the Chapel of St. John the Baptist.