The Piazzale Michelangelo is a large, partly pedestrianized square located across the Arno River from the center of Florence. From the square you have one of the best unobstructed views over the city.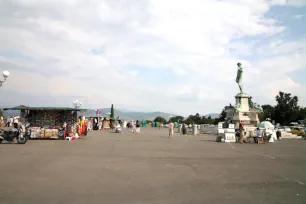 A steep winding path brings you from the Porta San Niccolò, a fourteenth-century city gate near the river Arno, to the Piazzale Michelangelo.
Risanamento
The spacious square was laid out in 1860 by Giuseppe Poggi, a local architect who is also known for his creation of boulevards around the center of Florence. The boulevards and square were created as part of the so-called 'Risanamento', a late nineteenth-century urban modernization project which also resulted in the creation of the Piazza della Repubblica.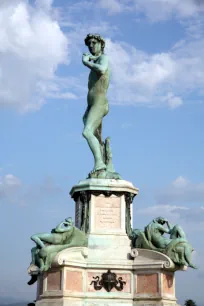 Michelangelo
The Piazzale Michelangelo is dedicated to the city's most famous Renaissance artist: Michelangelo Buonarroti. At the center of the square stands a replica of his most famous statue, the David. The bronze statue is set on a large pedestal, decorated with replicas of allegorical statues depicting day, night, dusk and dawn. The original marble statue of David can be seen in the Galleria dell'Accademia; the original allegorical statues are in the Medici Chapels of the San Lorenzo Basilica.
The views
The Piazzale Michelangelo is crowded year round; tourists dropped off by buses snap photos of the panoramas from the balcony overlooking the city. A large number of market stalls selling souvenirs and snacks fill the square.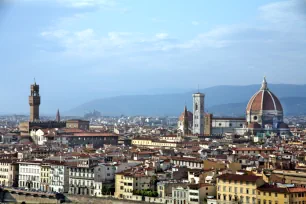 But despite the overly touristy commercialism, the square is well worth a visit thanks to the magnificent views over the city of Florence with the Tuscan hills providing a scenic backdrop. You have a clear view of a number of the city's most important landmarks, including the Duomo, Ponte Vecchio and Palazzo Vecchio.
San Miniato al Monte
Just a short walk along the Viale Galilei brings you to a series of flights of stairs which lead to the picturesque San Miniato al Monte, a historic church built in the eleventh century. And don't miss the church's cemetery; it features a number of impressive ornamented tombs.