The Piazzale Michelangelo is a large, partly pedestrianized square located across the Arno River from the center of Florence. From the square you have one of the best unobstructed views over the city.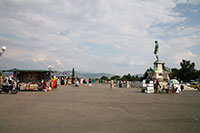 Piazzale Michelangelo
A steep winding path brings you from the Porta San Niccolò, a fourteenth-century city gate near the river Arno, to the Piazzale Michelangelo.
Risanamento
The spacious square was laid out in 1860 by Giuseppe Poggi, a local architect who is also known for his creation of boulevards around the center of Florence. The boulevards and square were created as part of the so-called 'Risanamento', a late nineteenth-century urban modernization project which also resulted in the creation of the Piazza della Repubblica.
Michelangelo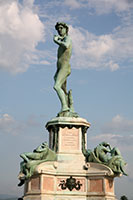 David Statue
The Piazzale Michelangelo is dedicated to the city's most famous Renaissance artist Michelangelo Buonarroti. At the center of the square stands a replica of his most famous statue, the David. The bronze statue is set on a large pedestal, decorated with replicas of allegorical statues depicting day, night, dusk and dawn. The original marble statue of David can be seen in the Galleria dell'Accademia; the original allegorical statues are in the Medici Chapels of the San Lorenzo Basilica.
The views
The Piazzale Michelangelo is crowded year round; tourists dropped of by busses snap photos of the panoramas from the balcony overlooking the city. A large number of market stalls selling souvenirs and snacks fill the square.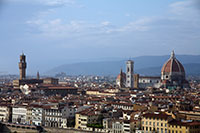 The view over Florence
But despite the overly touristy commercialism, the square is well worth a visit thanks to the magnificent views over the city of Florence with the Tuscan hills providing a scenic backdrop. You have a clear view of a number of the city's most important landmarks, including the Duomo, Ponte Vecchio and Palazzo Vecchio.
San Miniato al Monte
Just a short walk along the Viale Galilei brings you to a series of flights of stairs which lead to the picturesque San Miniato al Monte, a historic church built in the eleventh century. And don't miss the church's cemetery; it features a number of impressive ornamented tombs.