The Piazza della Repubblica was created at the end of the nineteenth century as part of an ambitious project to redevelop the historic center of Florence. Its most impressive sight is the Arcone, a triumphal arch.
Early History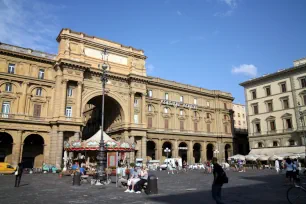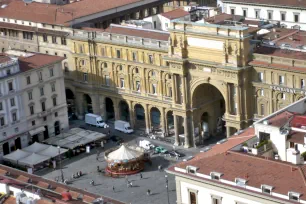 During the Roman Era – when the city was known as Florentia – the Roman Forum, the city's commercial and political heart, was located here. Later, during the Middle Ages, the area was home to the city's food market. A market hall, the Mercato Vecchio (Old Market), was built here in the fourteenth century.
Building a Modern City
In 1865, when Florence became the capital of the Kingdom of Italy – founded just four years earlier – grand plans were forged to rebuild the historic city into a modern city, worthy of a modern unified Italy. The plans included open squares, wide boulevards and monumental buildings. The historic buildings were considered a symbol of the old, divided Italy and were to be demolished.
In 1871 the capital of Italy was moved to Rome, but Florence decided to move ahead with the plans nonetheless. Demolition of the historic center, one of the city's most densely populated areas, started in 1885.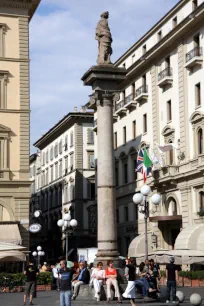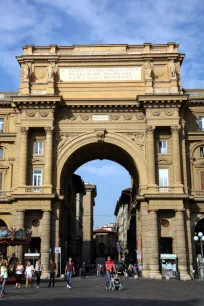 Soon, however, an international campaign was launched to protest against the project, which would result in the destruction of most of the city's historic buildings. On top of the outrage of the public opinion across Europe, the city started to run out of funds and by 1895 the redevelopment project was brought to a standstill. By that time, the old ghetto and the Mercato Vecchio had already been razed and replaced with a spacious square, the Piazza della Repubblica.
The Square Today
Today, the 19th century Piazza della Repubblica creates an interesting contrast with its historic surroundings, with narrow alleys and centuries-old buildings.
The only remnant of the past here is the Colonna dell'Abbondanza (Column of Abundance). The statue on top of the column, symbolizing abundance, is a twentieth-century replica of a statue by Giovanni Battista Foggini from the eighteenth century.
The most prominently visible structure on the square is the triumphal arch, known as the Arcone. It was erected in 1895 as part of the redevelopment plans. An inscription on the arch alludes to the demolition of the historic buildings: freely translated, it says 'the old city was put out of its misery and brought back to life'.
The piazza is bordered by several popular cafés. One of these, the Giubbe Rosse, is known to have been frequented by a number of famous artists and writers, especially around the turn of the twentieth century.