Just a short walk from the Piazzale Michelangelo – a popular touristy square – brings you to the San Miniato al Monte church, one of the most authentic Romanesque churches in all of Tuscany.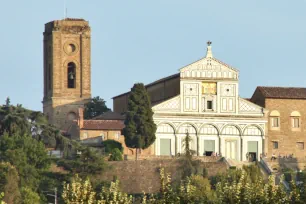 A series of stairs and terraces, built in 1865 – 1873 after a design by Giuseppe Poggi, lead to the church, which is located on top of a hill. From here you have a great view over the city of Florence.
The Church
The church of San Miniato al Monte (St Minias on the Hill) was built on top of the grave of the Christian martyr Saint Minias, a wealthy Armenian – possibly a prince – who had settled in Florence. After the Roman Emperor Decius issued an edict for the suppression of Christianity in 250, Minias was decapitated and buried on a hill in East Oltrarno, across the river from the city center of Florence. A church was probably erected here shortly after Minias was buried, but the current church was built much later: construction started in 1018 and would continue for almost two hundred years.
Maintenance of the church was financed by the Calimala guild – wool and cloth merchants – as evidenced by the statue on top of the church's front facade, which shows an eagle standing on a bag with wool – the symbol of this wealthy guild. The facade, created in 1090, has a beautiful pattern of colored marble. The pattern of green and white marble would later be emulated on the baptistery and cathedral of Florence. The mosaic on the facade was added later, in the thirteenth century, and depicts Christ with Maria and St. Minias.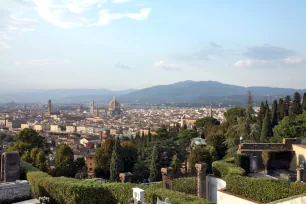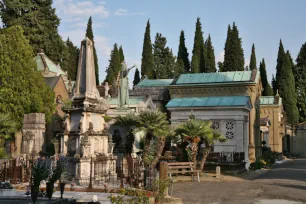 A similarly themed mosaic, created in 1297, can be found inside, on the ceiling of the apse. The marble floor – from 1207 – is decorated with zodiac signs. Of note is the beautiful chapel created for the Portuguese cardinal Iacopo di Lusitania, who died in Florence in 1459 at the young age of twenty-five. The cardinal's finely sculpted tomb was created in 1466 by Antonio Rossellino.
Cemetery
The cemetery near the church, officially known as the Cimitero delle Porte Sante, was created around 1839. Most notable are the large family tombs, some of which are the size of a small chapel. Many of the graves here are decorated with statues and other ornaments.
Campanile
The only partially finished campanile of the San Miniato church was created by the sculptor and architect Baccio d'Agnolo, who started with the construction in 1523. The tower replaced an earlier tower which collapsed in 1499.
During the siege of Florence in 1529 – 1530 by the ousted Medici and their allies, the bell tower was used to defend the city. Michelangelo – who opposed the Medici rulers even though he also worked for them – led the conversion of the campanile into an artillery tower and also created fortifications around the church.