The Bargello was built in the thirteenth century to house the city's magistrate. Today it is home to a museum with an impressive collection of Florentine Renaissance sculptures with rooms dedicated to renowned artists such as Michelangelo, Donatello, Giambologna and Cellini.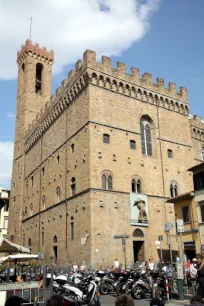 Palazzo del Bargello
The Palazzo del Bargello was built in 1255 to house the Podestà, the city's leading magistrate. Its design, attributed to master builder Vasari da Lapo Tedesco – father of the more famous architect Arnolfo di Cambio – incorporated older existing structures, such as the twelfth-century tower of the Boscoli in the new palazzo. Over the centuries, the building has undergone numerous modifications, but it still has the appearance of a medieval building.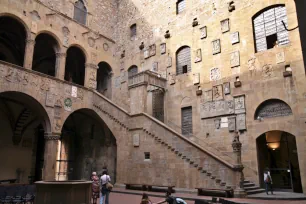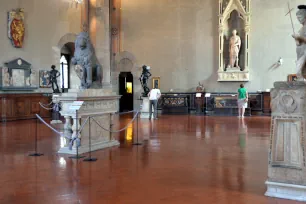 After the function of the Podestà was abolished by Cosimo I, the building became the residence of the head of the police, known as the Bargello, hence the building's name. It was also used as a prison. In 1865, after an extensive restoration project, the Bargello opened as one of Italy's first national museums.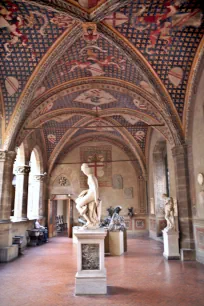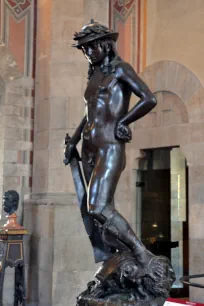 The Museum
The Bargello Museum has an impressive collection, containing some of the most important Renaissance sculptures that were once owned by the powerful Medici family.
The entrance of the museum gives access to the inner courtyard, where criminals were executed until 1786. The walls are decorated with coats of arms representing high ranking officials and city districts.
The large room near the inner court's staircase is known as the Michelangelo room. It houses a number of Michelangelo's sculptures such as the Bacchus and Brutus, as well as a number of works from other fifteenth-century artists including Giambologna, Vincenzo De'Rossi and Benvenuto Cellini.
The staircase on the inner court leads to an arcaded gallery known as the Verone, where you'll encounter a number of marble sculptures by GiamBologna, a Flemish artist who worked in Florence for most of his life.
The most interesting room on the second floor is the Donatello room, which is home to the museum's most famous statue, the bronze statue of David by Donatello. Cast in 1450, it was the first nude statue created by a western artist since the Antiquity. Another highlight in the Donatello room are panels that were created in response to a competition to design the doors of the Baptistery.
An exhibit on the third floor of the Bargello Museum shows armory worn during the thirteenth to seventeenth centuries. The museum also has interesting collections of ivory, ceramics, old coins and other artifacts.