The Mercato Centrale is a covered market hall in Florence's San Lorenzo district. The market hall is a nineteenth-century version of a more famous covered market in Florence, the sixteenth-century Mercato Nuovo.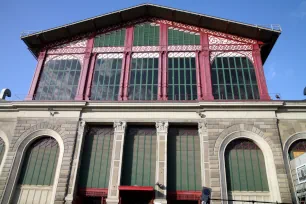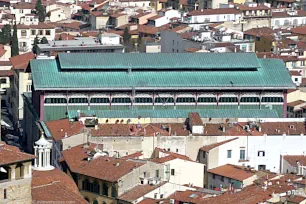 During the latter part of the nineteenth century, when the Mercato Vecchio (old market) was demolished to make way for the Piazza della Repubblica, the need arose for a new covered market. In order to fill this need, a whole city block in the center of the city near the Basilica di San Lorenzo was demolished to make way for the new market hall.
Construction
The Mercato Centrale was designed by Giuseppe Mengoni, an Italian architect best known for his cast-iron and glass-vaulted Galleria Vittorio Emanuele II in Milan, which was designed nine years earlier. He employed the same materials for the construction of the market hall and based his design on the now demolished market halls of Les Halles in Paris.
The two-story tall building opened in 1874 and even though the design was very modern for its time the structure is well integrated in the urban fabric thanks to the traditional design of the ground floor's stone façade, with arcaded windows that evoke the arches of the city's Renaissance loggias. The upper floor is more conspicuous, with its red-colored iron frame and green window mullions. Windows just below the brightly aqua colored roof allow natural light into the central market hall.
The Market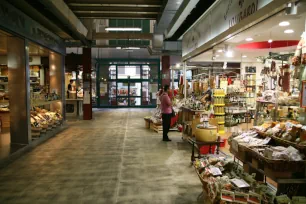 The Mercato Centrale is at the center of the San Lorenzo market. This large open air market is located in the streets and squares surrounding the Basilica di San Lorenzo. Here, plenty of vendors try to sell their wares – mostly leather goods, clothes and souvenirs – to the many passers-by.
In the Mercato Centrale you'll find perishable goods. Stalls on the ground floor sell fish, meat, cheese and typical Tuscan snacks such as lampredotto and budelline, both local types of tripe. Vegetables and flowers are sold on the upper floor of the market hall.