The Mercato Nuovo is a covered market located in the historic center of Florence. Its biggest attraction is the Fontana del Porcellino (Piglet Fountain); rubbing the animal's nose would ensure you to return to Florence.
The Market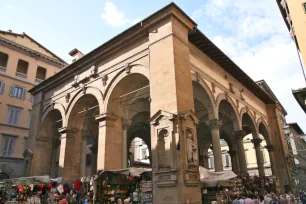 Markets were already held here in the eleventh century. The current loggia was built in the sixteenth century to protect merchants from inclement weather. It was named Mercato Nuovo (new market) to distinguish it from the now demolished Mercato Vecchio (old market) that was built in the 14th century at the site of the current Piazza della Repubblica.
Inside the semi-enclosed hall, vendors sold luxury items such as silk and gold. At the end of the nineteenth century this became the straw market, and the market is still known by that name even though most of the vendors now sell tourist souvenirs, leather goods and t-shirts instead of straw products. Florentines also call this market 'Mercato del Porcellino', or piglet market, for the wild boar statue that is located here.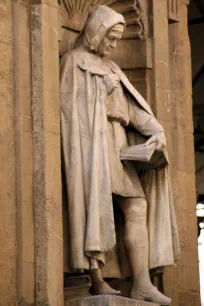 Loggia del Mercato Nuovo
The loggia was constructed between 1547 and 1551, during the reign of Grand Duke Cosimo I. The design of the rectangular hall with tall arches is attributed to Giovanni Battista del Tasso, a Florentine sculptor and architect. Two niches were created on each corner of the loggia. Just tree of the eight niches contain statues. They depict Giovanni Villani (a 14th century banker and diplomat), Bernardo Cennini (a fifteenth-century printer) and Michele di Lando (a wool carder who became a leader of the revolting lower class in the 1378 insurrection).
Pietra dello Scandalo
At the center of the loggia is a marble circular symbol inset in the floor. Known as the 'Pietra dello scandalo' (Stone of Shame), it marks the spot where, during the Renaissance, insolvent merchants were publicly humiliated before they were sent to prison or exiled. They had to drop their pants and stand up while their legs were whipped with a chain – three times in total, each time causing them to fall down on their buttocks.
Il Porcellino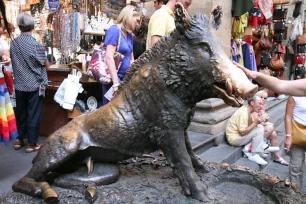 The most popular attraction at the market is the 'Fontana del Porcellino', a small fountain with a 17th century statue of a wild boar. The bronze statue is a replica of a Roman statue, which in turn was a copy of the original Greek statue. Legend has it that anyone who rubs the – always shining – snout of the boar will return to Florence. The procedure is rather complex: one has to place a coin in the mouth of the boar and when it falls into the water you have to rub his snout. The money thrown in the fountain is distributed to charity organizations in the city.