The Ponte Vecchio (Old Bridge) is a medieval bridge spanning the River Arno in Florence. It is one of the few remaining bridges with houses built upon. The Vasari corridor that runs over the houses connects the Uffizi with the Pitti Palace on the other side of the river.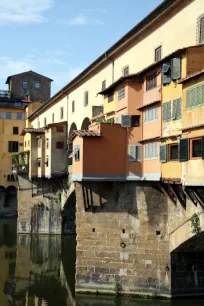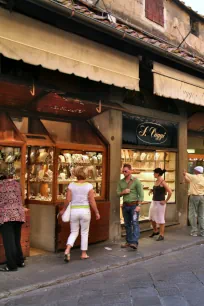 The pedestrian bridge is often teeming with tourists and the many musicians, portraitists and other entertainers create a constantly vibrant atmosphere. The bridge is at its most beautiful at dusk, especially when seen from the Ponte Santa Trinità.
History
The Ponte Vecchio is the oldest bridge in Florence. It is believed that a bridge already existed here during the Roman times. Its current appearance dates back to 1345 when it was built to replace a bridge which was destroyed by a flood. Houses were built on the bridge, a common practice in large European cities during the Middle Ages.
The Ponte Vecchio was the only bridge in Florence that survived the Second World War unscathed.
The shops
The houses on the bridge were initially used as workshops, and a diverse array of shopkeepers such as butchers and tanners did business here. In 1593 duke Ferdinand I decided to replace them with goldsmiths, reportedly because the shops produced too much garbage and caused a foul stench. Today, the houses are used as shops selling a wide assortment of jewelry, ranging from affordable modern jewels to pricey antiques.
Some of the houses on the bridge have an extension hanging over the river. The extensions are supported with long wooden shores, known as sporti.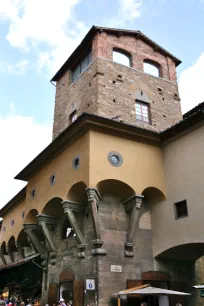 Vasari Corridor
In the sixteenth century, the Duke of Florence Cosimo I de' Medici decided to build a corridor to connect the Uffizi with the Pitti Palace across the Arno River, so that he would not need to walk across the always crowded bridge while commuting between his residences. The corridor, locally known as the Corridoio Vasariano after its creator Giorgio Vasari, was built in 1565 on top of the shops on the bridge.
On the south side of the bridge, the corridor wraps around the Manelli Tower. The owners of the tower, which was originally built to defend the bridge, refused to demolish the tower to make way for the corridor, so Vasari saw no other option than to build around it.