The Uffizi Gallery is the most famous museum in Florence. Its collection of Renaissance paintings, housed in a sixteenth-century palace, is unrivaled and contains works by the most famous painters of the era, including Michelangelo, da Vinci and Botticelli.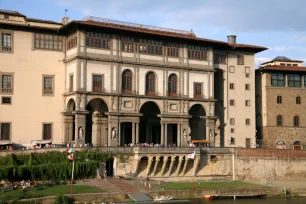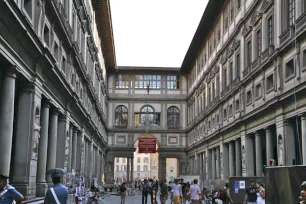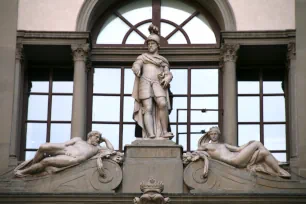 Uffizi Palace
The Palazzo degli Uffizi (Uffizi Palace) was built between 1560 and 1580 to house the administration of the government of grand duke Cosimo I de' Medici. The elegant building was designed by the duke's favorite architect, Giorgio Vasari, who created a U-shaped building with two long galleries connected by a short, arcaded gallery which opens up towards the Arno river. This construction created a long courtyard, the Loggiato. The façades of the Uffizi bordering the courtyard are decorated with niches containing statues of important historical figures.
In 1565, even before the Uffizi was completed, Vasari connected the building with the adjacent Palazzo Vecchio and with the Palazzo Pitti across the river, so that the Medici rulers would not have to go outside when walking from one building to another. In 1583 the Uffizi was also connected with the terrace of the Loggia dei Lanzi, allowing the Medici to attend events at the Piazza della Signoria without having to leave their palaces.
During summer months the courtyard can be very crowded; street performers entertain the many visitors and plenty of aspiring artists are willing to paint your portrait here. The courtyard gives access to the Galleria degli Uffizi, Florence's most famous museum.
Uffizi Gallery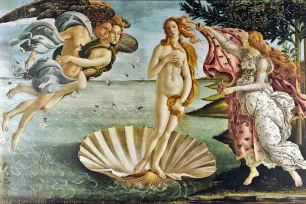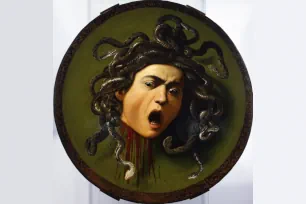 The Galleria degli Uffizi (Uffizi Gallery) boasts the world's largest collection of Renaissance art, largely collected by members of the Medici family during the sixteenth and seventeenth centuries. Francesco I de' Medici, successor of Cosimo I, decided to use the upper floor of the Uffizi – which featured unusually large windows – to display the family's collection of artwork, thus creating the world's oldest art gallery.
His successors kept expanding the collection until 1737, when Anna Maria Luisa de' Medici – the last scion of the Medici family – donated the works of art to the citizens of Florence.
The Medici often employed local artists, so it's no surprise that all the important Tuscan artists are represented here, including Giotto, Botticelli, Leonardo da Vinci and Michelangelo. But other masters such as Raphael, Caravaggio, Rubens, van Dyck and Rembrandt are also well represented. Some of the most famous works in the gallery are the 'Birth of Venus' by Botticelli, Caravaggio's Medusa, and the portraits of the duke and duchess of Urbino, considered the first Renaissance portraits.
The museum also owns a collection of Roman statues – which Renaissance artists often used as models – and Gothic paintings – many with Byzantine influences – from the thirteenth and fourteenth centuries.