The Galleria dell'Accademia is one of the most popular museums in Florence, mostly thanks to Michelangelo's David statue. The museum also houses other artwork, including statues, religious paintings and musical instruments.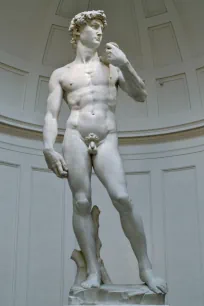 The Academy
Cosimo I de' Medici, grand duke of Tuscany, founded Europe's first art academy in 1563. Michelangelo Buonarroti was one of the first teachers in the academy, which was called Accademia delle Arti del Disegno. In 1784, it became part of a new institution, the Accademia di Belle Arti (Academy of Fine Arts), founded by the then grand duke of Tuscany, Peter Leopold. Leopold also founded the Galleria dell'Accademia, a museum located adjacent to the academy. The purpose of the museum was to provide the students with examples of historic artwork as study material.
The David
The most important masterpiece in the Galleria dell'Accademia is Michelangelo's statue of David, possibly the world's most famous statue. The statue, 5 m 17 cm tall (about 17 ft.), was commissioned by the Florentine republic, who saw the biblical hero slaying the giant Goliath as a symbol for the creation of the nascent republic.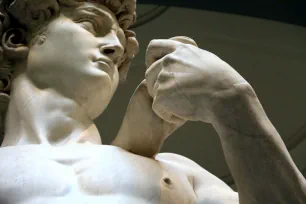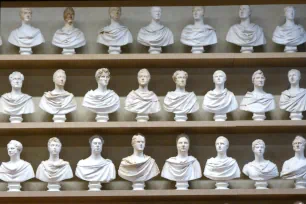 The statue was installed in front of the Palazzo Vecchio, but in 1873 it was replaced by a replica and moved to the Galleria dell'Accademia to protect it from the elements. Another replica can be found at the center of the Piazzale Michelangelo.
The statue, which was created by Michelangelo in 1501-1504 from a single block of marble, was instantly admired for its proportions and attention to detail. Michelangelo chose to depict David as an adolescent instead of a young boy, as was customary. The statue brought instant fame to the twenty-nine-year-old Michelangelo.
More Artwork
Another famous work by Michelangelo in the Galleria is the group of four unfinished marble statues of slaves. They were created between 1521 and 1523 as part of a monumental tomb for Pope Julius II, which was later scaled down in size. The statues seem to try and extricate themselves from the marble block. In 1585 the statues were placed in the Grotta Grande in the Boboli Garden, now replaced by replicas.
Surrounding the David are a number of statues by other artists and a nearby room, the Salone del Ottocento, is crammed with statuary. The blue Sala del Colosso features a plaster model of Giambologno's Rape of the Sabine Women. The museum has more than just statues; on the second floor is an impressive collection of religious paintings from the thirteenth through the sixteenth centuries. And the museum also houses a collection of musical instruments, owned by the adjacent Conservatory of Music, formerly part of the Academy.