Dresden's Theaterplatz is a beautiful square framed by some of the city's most important landmarks such as the Zwinger Palace, the Hofkirche and the Semper Opera House.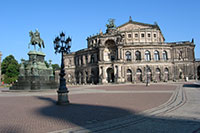 Theaterplatz
The paved square was originally located on the edge of the city, which was centered around the Altmarkt, a historic square just southeast of the Theaterplatz.
The Surrounding Buildings
The most prominent building at the mostly pedestrianized square is the Semper Opera House, originally known as the Hoftheater, hence the name of the square. A first version of the opera house was built in the seventeenth century, but was replaced by a new, grander structure between 1838 and 1841.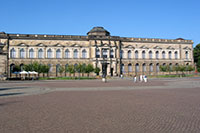 Zwinger
After it was destroyed by fire, the opera house was rebuilt at the end of the nineteenth century.
On the west side, the square is bordered by a large wing of the Zwinger Palace, known as the Semperbau. The wing houses two museums, the Gemälderie Alte Meister – an art gallery – and the Rüstkammer, an armory. Flowerbeds and two nineteenth-century fountains grace the area in front of the Zwinger.
Opposite the palace, along the Elbe river, is the Italienisches Dörfchen.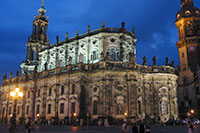 Hofkirche
The low Baroque structure was built in 1912 by Hans Erlwein. It is named after the Italian stonemasons who lived here when they were working at the nearby Hofkirche, which borders Theaterplatz on the southeast side. The Baroque Hofkirche, Dresden's catholic cathedral, was built here between 1738 and 1751.
Adjacent to the cathedral is a much smaller building, the Altstädter Wache (Old Town Watchtower). The Neoclassical building is also known as the Schinkelwache, after its designer, the famous German architect Karl Friedrich Schinkel.
Statue of King John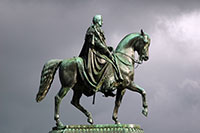 King John Statue
At the center of the Theaterplatz stands a large equestrian statue of king Johann (John), who ruled Saxony from 1854 until 1873. The bronze statue, designed by Johannes Schilling, was erected here in 1889. Schilling was also responsible for the quadriga on the Semper Opera House.