Dresden's History Museum, also known as Rüstkammer (Armory), has a magnificent collection of historical armor and weaponry from the fifteenth to the eighteenth centuries, many of which are sumptuously decorated.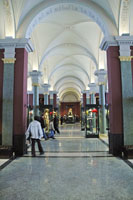 Columned Hall
The museum is housed in the Residenzschloss, the Dresden Castle, which for centuries was the residence of the electors of Saxony.
History
The origin of the museum can be traced back to the late fifteenth century, when Albert III, duke of Saxony, set up an armory in the Royal Palace. The collection grew significantly during the second half of the sixteenth century, starting with the reign of Augustus, Elector of Saxony, when many intricately decorated pieces of weaponry and armory were added to the expanding collection. Most of these were only used by the royals for special occasions such as hunting parties, festivities, ceremonies and jousting tournaments.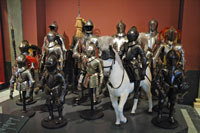 Child Armor
More armor and weapons were obtained throughout the seventeenth and early eighteenth century, either by purchasing them from specialised craftsmen, by capturing them from enemy troops or they were simply received as royal gifts such as a gift from king Louis XIV of France, who donated six horses with magnificent harnesses as a token of friendship between Saxony and France.
On the Move
Originally the ceremonial suits of armor and weapons were stored in the ducal armor chamber of the Royal Palace. From the sixteenth century on the armory was on display at the Royal Stables until 1832, when the collection moved to the Zwinger and opened as the Royal History Museum. The collection was later put on display in the stables again, now known as the Johanneum. After the Second World War, occupying soviet troops transferred the collection to St. Petersburg.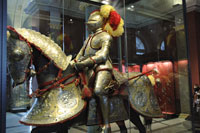 Golden Suit of Armor
In 1958, it was returned back to the Zwinger, where it can still be admired today.
The Collection
The museum has an impressive collection, with thousands of pieces of weaponry. Due to limited space, only a selection of these are on display, including decorative harnesses for men, horses and children, saddles, swords, sabres, daggers and firearms. The main part of the collection originates from Europe, but the museum also has a separate department with a magnificent collection of Oriental weaponry, since 2010 on display in the Türckische Cammer (Turkish Room) in the nearby Residenzschloss (Royal Palace).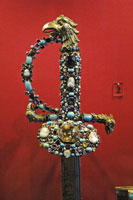 Sabre for coronation
of Augustus
the Strong
One of the highlights of the museum in the Castle is the sumptuous suit of armor for horse and rider, known as the 'golden suit of armor'. The armor, the centerpiece of the columned hall, was originally made in 1562-1564 by the Antwerp goldsmith Eliseus Libaerts for the Swedish king Eric XIV.
Other gems in the collection of the museum include the first electorial sword (1425), a harness belonging to Elector Christian II (1591) and an conspicuous sabre inlaid with gems, made for the coronation of Augustus the Strong in 1697.