The Goldener Reiter (Golden Rider), a gilded equestrian statue of Augustus the Strong, is one of Dresden's best known landmarks.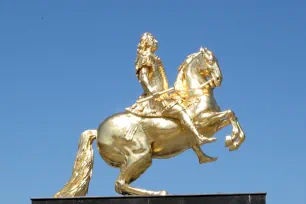 The statue, showing the Elector of Saxony and King of Poland dressed as a Roman Emperor, stands at the Hauptstrasse, the main pedestrian boulevard in Dresden's Neustadt district, just across the Augustusbridge from the Schlossplatz.
Augustus the Strong
Augustus the Strong was responsible for several of the city's famous Baroque buildings, including the Zwinger. During his reign, Dresden became an important cultural center, nicknamed Florence at the Elbe. When he died in 1733 his son Augustus III decided to erect a gilded equestrian statue in honor of his illustrious father.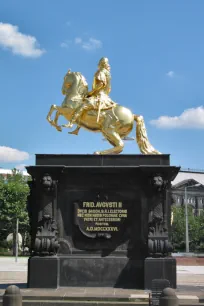 The statue was designed by the French court sculptor Jean Joseph Vinanche and cast in 1734 by Ludwig Wiedemann, a smith from Augsburg. The following year, the gilded statue was unveiled at Neustadt, near the Augustusbridge. The large pedestal was completed much later, in 1884.
Postwar Restoration
The Goldener Reiter escaped unscathed from the allied bombardments of Dresden in February 1945 as it had been dismantled and stored in an underground cave in Pillnitz in 1944. After a restoration that took three years, the landmark statue was erected again at Neustadt just in time for the 750th anniversary of Dresden in 1956.