The Brühl Terrace is one of the most popular places in Dresden. The terraced promenade offers some beautiful architecture combined with magnificent views over the Elbe river.
Balcony of Europe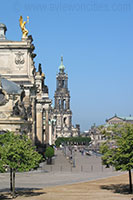 Brühl Terrace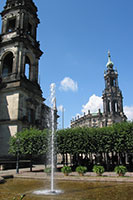 Fountain
The terrace was originally part of ramparts built to protect the city. Between 1739 and 1748 count Henrich von Brühl, a powerful minister under King Augustus the Strong, transformed the ramparts into a terraced garden for his palace. Goethe gave it the name 'Balcony of Europe'.
In 1814, after a monumental staircase was built connecting the Schlossplatz with the terrace, the gardens were opened to the public. The staircase is flanked by four bronze sculptures, each symbolizing one season.
Sights
When walking up the stairs, you can see a number of beautiful buildings on your right-hand side.
Ständehaus
The first one is the former state parliament building, also known as the Ständehaus. It was built between 1900 and 1907 and replaced the original Brühl Palace. The building's spire fits well into the skyline, complementing the nearby tower of the Royal Palace and the spire of the Hofkirche.
Secundogenitur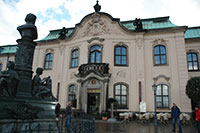 Secundogenitur
Royal Art Academy
The next building coming from the Schlossplatz is the Secundogenitur, a beige plastered building in Neo-Baroque style. It was built in 1897 for the second-born son of the ruling couple and replaced the original Brühl Library, once containing more than 60,000 volumes.
Royal Art Academy
After the Secundogenitur, the Brühl Terrace passes the Münzgasse lane below, which opens a view onto the Frauenkirche. The next building along the terrace is the Royal Art Academy, built in 1891. The imposing Neo-Renaissance structure has a remarkable glass dome crowned by a gilded statue of Nike, goddess of victory.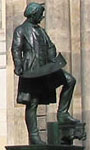 Semper
Memorial
Semper memorial
Between the Royal Art Academy and the Albertinum, the last building along the terrace, the Semper memorial stands in front of a double staircase. The memorial honoring the architect of the Semper Opera House was sculpted by J. Schilling.
Albertinum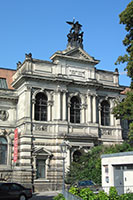 Albertinum
The Albertinum, built in 1884 in Neo-Renaissance style, houses three different museums: the Gallery of nineteenth- and twentieth-century Painters, the Sculpture and Coin collections and the Green Vault treasury.
Brühl Garden
In front of the Albertinum is the Brühl garden, situated on top of a former bastion, part of the medieval fortifications. It was here, in a cellar, that the alchemist Johann Friedrich Böttcher discovered European Porcelain, the 'white gold', in 1708.