The Semper Opera House or Semperoper in Dresden is home to the Sächsische Staatsoper, one of the city's most important cultural institutions. The opera house is also one of Dresden's most impressive monuments.
The First Semper Opera House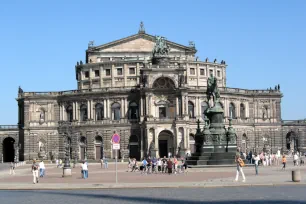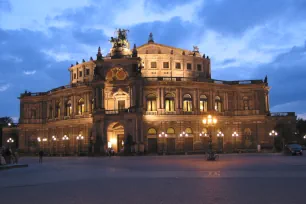 Already in 1678 an opera house was built on the current site of the Semperoper, near the Theaterplatz.
In 1838 Gottfried Semper, who was heavily influenced by ancient Roman architecture, started with the construction of a new theater building in Neo-Renaissance style. The magnificent building saw many premieres of works by Richard Wagner, who arrived in Dresden one year after Semper's Opera House was completed in 1841.
A New Semper Opera House
In 1869 a fire destroyed the building. Even though Gottfried Semper was in exile after he took part in a failed democratic uprising, he was awarded the design of the new Opera House. His son Manfred constructed the building in High Renaissance style between 1871 and 1878 after his father's plans.
Postwar Reconstruction
The Semper Opera House was destroyed again in February 1945 during the heavy allied bombardments and subsequent fires, which laid the whole city in ruins. The building was reconstructed forty years later. It reopened in February 1985 with a performance of Carl Maria von Weber's Der Freischutz, the opera last played before the bombardment in 1945.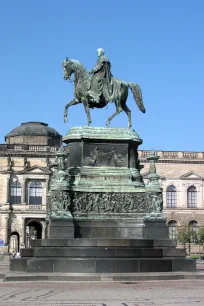 Statues
The oval-shaped building features a large central portal topped by a panther-drawn quadriga with Dionysos, Greek god of the art and his consort Ariadne. On either side of the portal are statues of Goethe and Schiller, famous German writers.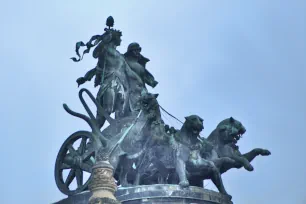 In niches at the sides of the building are the original statues of Shakespeare, Sophocles, Molière and Euripides; they were saved from the old Semper Opera House.
Theaterplatz
The building has a prime location at the Theaterplatz, a large square near the Elbe river. At the center of this square in front of the Opera house stands an equestrian statue of the Saxon King John, added in 1889. This statue was created by Johannes Schilling, a German sculptor who was also responsible for the chariot on top of the Semper Opera House.