In the Augustusstraße, at the back side of the Langer Gang (long corridor) at the Royal Mews, a 102 meter (334ft) long mural decorates the wall. Known as the Procession of Princes or Fürstenzug in German, it depicts a parade of rulers of the House of Wettin since 1127.
Thirty-five Nobelmen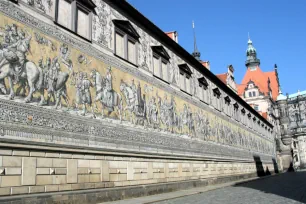 In total 93 people are portrayed on the mural. The 35 noblemen – princes, dukes, margraves and kings – are shown on horseback while foot soldiers and other people accompany them. The name of each ruler is inscribed below his image.
The procession starts with Konrad the Great, who ruled from 1127 to 1156 and ends with Friedrich August III, who ruled between 1904 and 1918 as Saxony's last king. All the people depicted are shown in contemporary clothing styles.
Creation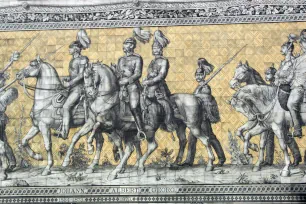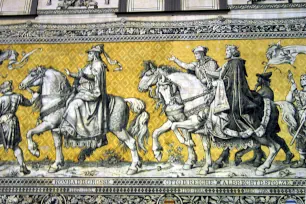 The Procession of Princes was originally painted between 1870 and 1876 by artist Wilhelm Walther to celebrate the 800-year anniversary of the Wettin Dynasty. It replaced an older painting of a procession that had been painted almost 300 years earlier with limewash. Due to the long exposure to natural elements, the original painting had become mostly invisible. For the new mural, Wilhelm Walther employed the sgraffito technique on a stucco base, which allowed for great detail. The artist portrayed himself as the last person in the procession.
Ceramic Tiles
But by the end of the nineteenth century, the new stucco had already started to deteriorate. In order to make the Fürstenzug weatherproof, the sgraffito decoration was replaced between 1906 and 1907 with close to 25,000 ceramic tiles from the porcelain manufacturer Meissen. The tiles miraculously survived the devastating aerial bombardments of February 1945.