The Catholic Hofkirche (literally, Church of the Court) was built by Saxon ruler Augustus III as a counterweight for the protestant Frauenkirche. The Baroque church is one of the most beautiful buildings in Dresden.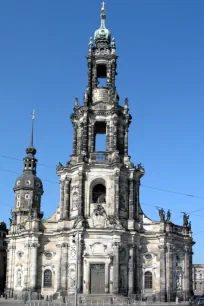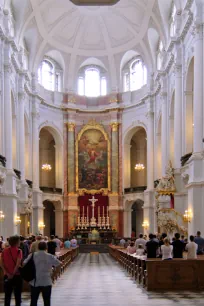 King of Poland
In 1697 Augustus II the Strong, Elector of Saxony, converted to Catholicism, so he could become King of Poland.
Initially, the king used a royal chapel for Catholic services, but when the Protestant city of Dresden built the Frauenkirche in 1743, Augustus the Strong's son Augustus III decided a Catholic church was needed to counterbalance the Protestant church.
In secrecy, plans for the largest church in Saxony were made by the Italian architect Gaetano Chiaveri.
The Building
Known as Hofkirche (Church of the Court), the new Catholic church was built between 1738 and 1751 in high Baroque style. The monumental, oval-shaped Hofkirche features an 83 m. /272 ft. high belfry, which is harmoniously integrated in the front facade. The spire of the bell tower is designed as a series of stepped monopteros – open circular structures – decorated with Corinthian columns. The top is crowned with a copper onion dome.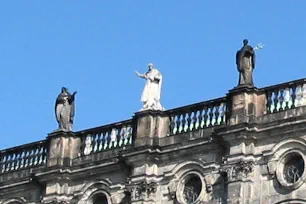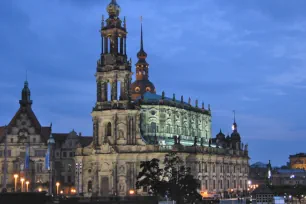 The church is framed with balustrades from which seventy-eight statues of historical and biblical figures look out over the city. Each of these statues is three meters or almost ten feet tall.
Reconstruction
The church was left in ruins after the allied bombing of Dresden in 1945, and reconstruction only started in 1979. One year later, when the Hofkirche was just being reconstructed, the bishop's seat of Meissen was moved to Dresden, designating the city's Catholic church as a cathedral.
Interior
The cathedral's interior features a carefully restored organ, the last work of the renowned organ builder Gottfried Silbermann and a magnificent Rococo pulpit by Balthasar Permoser. The heart of Augustus the Strong was buried here after completion of the church, while his body was buried in Kraków, Poland.