The Gemädegalerie Alte Meister in Dresden is an art gallery with an excellent collection of masterpieces from fifteenth- to eighteenth-century painters. The museum's most famous work is Raphael's Sistine Madonna, best known for the romantic depiction of two little angels.
History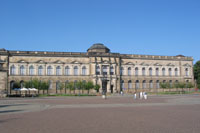 Old Masters Gallery, Zwinger
The first paintings in the collection of the Old Masters Gallery were acquired in the sixteenth century by the Saxon Rulers of the House of Wettin. The paintings were part of the royal Kunstsammlung, a collection of all sorts of artwork and curiosities.
Most of the collection's masterpieces of the fifteenth to eighteenth century were acquired during a span of just seventy years, during the reigns of Augustus the Strong and his son Augustus III (1694 – 1763). It wasn't until 1747 before the paintings were displayed in a dedicated room in the Johanneum. In 1855 the art collection moved to the Zwinger Palace, where it opened as the Neues Königliches Museum (New Royal Museum).
Collection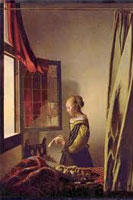 Girl Reading,
Jan Vermeer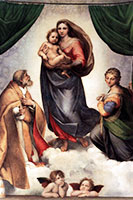 Sistine Madonna,
Raphael
Today, the Old Masters Gallery is still housed in the west wing of the Zwinger. It has a collection of fifteenth- to eighteenth-century paintings, with an excellent assortment of masterpieces from some of the most famous painters of the era. Italian master painters such as Caravaggio, Bernardo Bellotto, Titian (The Tribute Money), Raphael (Sistine Madonna) are well represented, in particular Bellotto, whose many paintings of historic Dresden are displayed on the ground floor.
There is also a fine selection of great Flemish master painters such as Pieter Paul Rubens (Drunk Hercules), Jacob Jordaens, Anthony van Dyck and Jan van Eyck (Triptych with Madonna and child) as well as works by the Dutch masters Jan Vermeer (Girl Reading a Letter at an Open Window) and Rembrandt van Rijn.
The art gallery boasts the world's largest collection of paintings by Lucas Cranach the Elder and his son, Lucas Cranach the Younger; fifty-eight in total. Other German artists represented include Albrecht Dürer and Hans Holbijn the Younger.
There are also some galleries with works by French, Czech, English, Austrian and Spanish artists, of whom Velázquez is the most notable.
Sistine Madonna
Cherubs of the Sistine Madonna
The most famous painting in the Old Masters Gallery is undoubtedly the Sistine Madonna, painted around 1513 by the Italian master Raphael. It was originally created as an altarpiece for the Sistine Church of Piancenza and purchased by king Augustus III in 1754 for the royal sum of 20,000 ducats.
The painting shows the Madonna with child, flanked by saint Sixtus and saint Barbara. But it is mostly famous for the two little cherubs Raphael painted at the bottom of the canvas. The image of the cherubs has been reproduced numerous times on all sorts of merchandise, a practice which started as early as in the nineteenth century.