Quite an accomplishment in its time, Dresden's Blue Wonder Bridge still attracts plenty of attention from visitors to this German city.
A Technological Masterpiece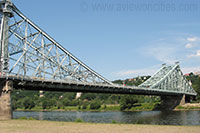 Blue Wonder
When the cantilever truss bridge known as Blue Wonder was constructed over the River Elbe, it was quite a feat. In 1893, at the time the bridge was completed, it was one of the longest bridges ever built that wasn't supported by pillars. Dresden's citizens immediately declared it a masterpiece of technology, and when it was painted a vibrant blue color, the name officially became Das Blaues Wunder – the Blue Wonder.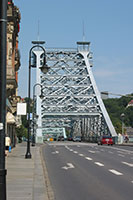 When it was complete, the 147-meter-long (482 ft.) bridge, also known as the Loschwitz-Blasewitz-Brücke, connected two of the most desirable and expensive sections of the city: Dresden – Blasewitz and Dresden – Loschwitz. It was also close to Dresden's funicular railroad (Dresden Standseilbahn) and conveniently located near Dresden Schwebebahn, one of the country's oldest suspension railroads.
During the War
Much of Dresden was destroyed during World War II, but the Blue Wonder Bridge survived the turmoil. It is said that many individuals put their lives on the line to save this marvelous structure, one at a time… and they succeeded.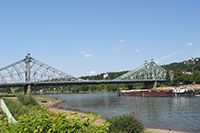 Today
These days, Das Blaues Wunder still stands over the Elbe River, painted the same blue color, ushering traffic from one side of Dresden to the other.