Well-known for the wonderful panoramic views it provides of the city of Budapest, the castle-like Fisherman's Bastion was built in 1905, mainly for decorative purposes.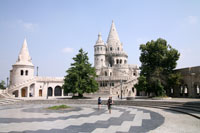 Fisherman's Bastion
The bastion is located right behind the Matthias Church in the Castle District. It is one of the city's biggest tourist draws and functions as some sort of ornate viewing platform.
The Fisherman's Bastion was built on the site of an old rampart that, during the Middle Ages, was defended by the guild of fishermen, who lived nearby in Vízívaros (water town), at the foot of the hill. Thus, the name of the bastion. An old fish market also sat at this location during medieval times.
The Bastion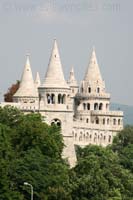 The picturesque
bastion
Designed by architect Frigyes Schulek and built between 1899 and 1905, the white-stoned Fisherman's Bastion is a combination of Neo-Gothic and Neo-Romanesque architecture and consists of turrets, projections, parapets, and climbing stairways.
The bastion is made up of seven towers – each one symbolizing one of the seven Magyar tribes that, in 896, settled in the area now known as Hungary. The structure looks straight out of some fairy-tale and conjures up thoughts of Cinderella or Sleeping Beauty. Still, it seems to be in sync with the style of the Church of Our Lady and nicely complements the church, which was the intention of the architect.
A monumental double stairway, decorated with reliefs of coats-of-arms and various motifs, connects the bastion with the streets below.
The View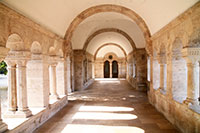 Lower level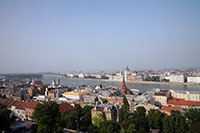 View from Fisherman's Bastion
Statue of King Stephen I
Between the Matthias Church and Fisherman's Bastion stands a statue of the first Christian king of Hungary, St. Stephen. He is shown mounted on a horse, atop an ornate pedestal decorated with reliefs.