Now a luxury five-star hotel, Gresham Palace was originally built in the early twentieth century for the Gresham Life Insurance Company. The building has long been acclaimed for its magnificent architecture.
History of the Palace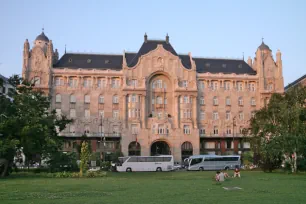 Built between 1904 and 1906, Gresham Palace sits at a site that was once home to the Nako House, a Neoclassical palace that was built in 1827 and designed by architect Joseph Hild. The Gresham Life Insurance Company, a British company, took possession of the building in 1880.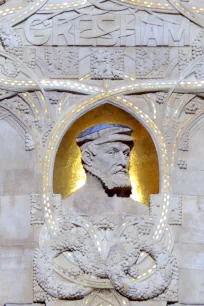 Nako House wasn't grand enough for Gresham, which had decided to build its foreign headquarters here, so they demolished it and began to seek designs for a new building in its place.
The chosen design was by local architect Zsigmond Quittner and construction began on this Secession masterpiece in 1904, concluding a little more than two years later.
Originally, the palace served not only as an office building, but also a home for wealthy British aristocrats connected with the company. At the end of World War II, however, Soviet soldiers eagerly took up residence in the very opulent palace. Eventually, it fell into disrepair and served as an apartment building during the Communist rule of Hungary.
When democracy was restored, the national government presented the palace to the city of Budapest. In the early twenty-first century, it was purchased by the Four Seasons hotel chain and is now one of the city's finest hotels.
About the Design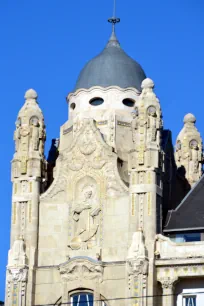 Gresham Palace is a wonderful study in Secession architecture and one of the finest examples of this style found in Central Europe. With flowing lines, beautiful ironwork (including two magnificent peacocks at the gate of the courtyard), and ornamental decorations inspired by floral motifs, this building is quintessentially Secession (the local variant of Art Nouveau). Add stained-glass windows, wide sweeping staircases, and incredible mosaics, and you have one of Budapest's most magnificent buildings. Look for the bust of Sir Thomas Gresham at the top of the building near the moniker.
Thanks to the folks at Four Seasons, the building was lovingly restored to its original grandeur, with large guest rooms featuring vaulted ceilings and step-out balconies, while still receiving much needed upgrades that have brought the palace into the 21st century. There's also a wonderful spa and excellent dining room.