The most popular way for tourists to get from Pest and the Danube riverside to the Castle District is by taking a ride on the Sikló, a funicular with a history that goes back to the nineteenth century.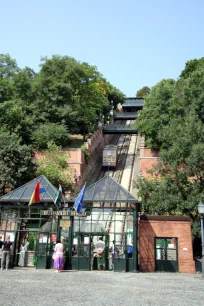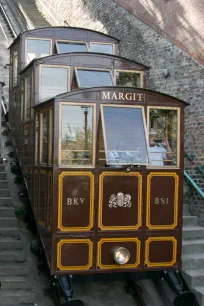 The lower station stands at Clark Ádám tér, a square near the Chain Bridge. The funicular brings passengers to the upper station at Szent György tér (St. George Square), between the Buda and Sándor palaces.
Construction
Ödön Széchenyi, whose father was the driving force behind the construction of the Chain Bridge, first proposed the creation of a funicular on Castle Hill when he was a member of the board of public works.
Construction started in 1868 and the line officially opened in early March 1870. At the time, it was only the second funicular in Europe. Steam engines powered the wooden carriages more than fifty meters up the hill at an inclination of 48%.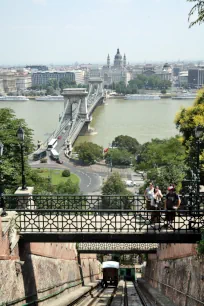 Today's Funicular
In 1945, at the end of World War II, a bombardment destroyed the stations and carriages. For a long time it looked like that was the end of Budapest's funicular. Fortunately the Sikló was restored in the 1980s and it reopened in June 1986. The original carriages have been replaced by beautiful replicas and modern glass stations were built at the foot and top of the funicular, now powered by an electric winch.
The carriages have a peculiar stepped shape, designed to give as many people as possible a panoramic view over the river and Pest. There are two different tracks leading up the hill but you can nonetheless expect queues during the summer months since many visitors use this method of transportation to go to the Buda Castle and back.