The Museum of Fine Arts exhibits a rich selection of European art. Its Old Gallery, with some three thousand paintings from Europe's greatest masters, is particularly impressive. The museum is housed in an imposing building at Heroes' Square.
The Museum Building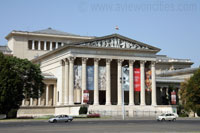 Museum of Fine Arts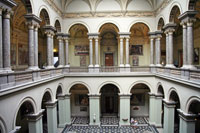 Interior
Budapest's Museum of Fine Arts was built between 1900 and 1906 after a neoclassical design by Albert Schickedanz and his associate Fülöp Herzog. Both architects were classically trained in Vienna and their creation was clearly inspired by the ancient temples in Greece. The classical front with massive Corinthian columns and sculpted tympanum forms a nice complement to the Palace of Art – from the same architects – at the opposite side of the square.
The interior of the building is decorated in an Italian Renaissance style with arcades, marble columns, marble patterned floors and coffered ceilings. Plenty of skylights brighten up the large halls and exhibition rooms.
The Museum Collection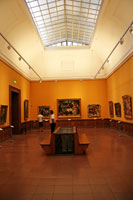 Old Gallery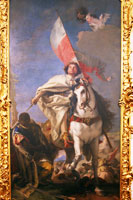 St. Jacob defeats
the Moors, Tiepolo
The museum's collection consists mostly of European art with the exception of Hungarian art, which is displayed in the National Gallery at the royal palace of the Buda Castle.
The main attraction of the museum is its Old Gallery (Régi Képtár). The gallery's history goes back to 1870 when the collection of the family of Esterházy was acquired. The gallery includes paintings from almost all the old masters, including works from Brueghel, Rubens, Jordaens, Rembrandt, Vermeer, Velázquez, Raphael and Titian, just to name a few. French artists are well represented in the collection of nineteenth- and twentieth-century art, with works from many of the greats, including Toulouse-Lautrec, Monet, Pissaro and Gaugin.
But the Museum of Fine Arts has more than just paintings; there is also a collection of sculptures that are spread around the museum as well as art from the Antiquity (Greek, Etruscan and Roman), Egyptian treasures excavated by Hungarian archaeologists and an overview of artwork from the Middle Ages including Gothic altarpieces. The museum also owns more than one hundred thousand drawings and prints, including drawings from famous artists such as Leonardo da Vinci and Rembrandt.