The Parish church of Belváros, the inner city of Pest, has an almost one-thousand-year-long history. Its current Baroque appearance is the result of an eighteenth-century reconstruction.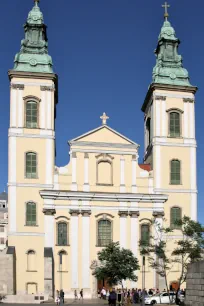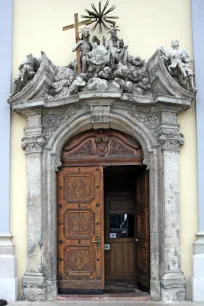 A Tumultuous History
The church is the oldest in Pest (the flat part of Budapest east of the Danube river). It was built in 1046 at the site of the grave of St. Gellert. The Romanesque church was destroyed during the invasion of the Mongols and rebuilt in the fourteenth century in a Gothic style.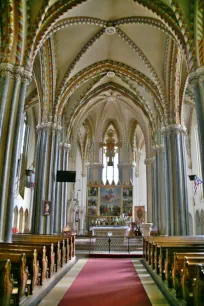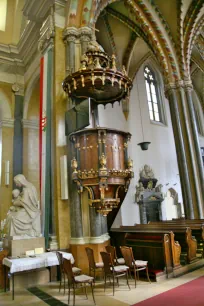 During the occupation of the city by the Turks, the church suffered badly and was even turned into a mosque. After the Habsburgs ousted the Turks, the building became a church again.
Misfortune struck once more when the building was heavily damaged during the Great Fire of 1723. It was rebuilt between 1725 and 1739 to a Baroque design by the German-born architect János György Paur.
The Church
Both the interior and exterior reflect the tumultuous history of the church. Traces of the original Roman walls are still visible, and inside there are some Gothic and even neoclassical elements.
The Baroque church portal is decorated with a sculpture of the holy trinity. The nave and side chapels, several of which contain relics, are Baroque in style. Highlights include the wooden neo-Gothic pulpit and a fresco of the Virgin Mary in the sanctuary. The church also contains several sepulchral monuments, including a beautiful marble monument created in 1828 by the Hungarian sculptor István Ferenczy.
The altar, which was decorated with glazed tiles from Zsolnay, was demolished during World War II. It was replaced in 1948 by a modern version and decorated by sculptor Pál C. Molnár and painter Károly Antal.