The city hall of Budapest is a monumental Baroque structure originally built in the eighteenth century as accommodation for war veterans. At the end of the following century, it was remodeled to house the municipal government of Budapest.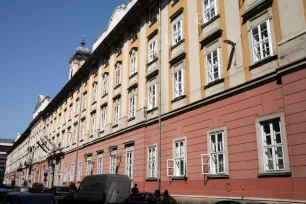 There's more than just one city hall in Budapest. Each of the city's twenty-three districts has in fact its own city hall, but the Központi városháza is the city hall for the whole metropolis of Budapest.
House of the Invalids
The history of the city hall complex goes back to the end of the seventeenth century. Shortly after the Habsburgs reconquered Budapest from the Turks, archbishop György Széchényi launched the idea of creating a boarding house for invalids and war veterans. Construction started in 1716 after a design by the Italian architect Fortunato de Prati.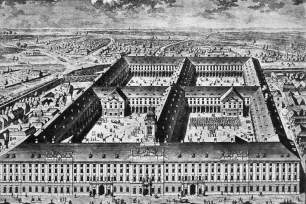 Progress was slow until 1724, when Anton Erhard Martinelli – an Austrian architect of Italian descent – was put in charge of the supervision of the project. The first wing, facing Városház utca, was completed in 1747.
The building was originally known as the House of the Invalids (invalidus-ház), but it was so impressive – both in size and ornamentation, that it was often called invalidus-palota or 'Palace of the Invalids'. The front facade, 189 meters long, has three porticoes decorated with allegorical statues and reliefs that commemorate the victories of Eugene of Savoy and King Charles III over the Ottoman Empire.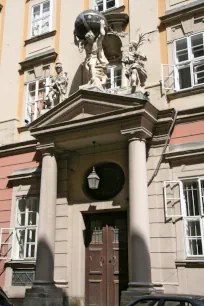 Charles Barracks
At the end of the eighteenth century Emperor Joseph II ordered the invalids to move to another premise and the monumental building became the barrack of the grenadiers. It was named Károly Kaszarnya (Charles Barracks), after King Charles VI – locally known as Károly VI – under whose reign the House of the Invalids was founded.
City Hall
In 1894 local authorities purchased the building with the purpose to use it as city hall and office of the mayor of Budapest. Architect Ármin Hegedűs led the transformation of the building into an office complex.
The original plans of the large complex were even bigger. The House of Invalids was planned as a rectangular building, almost twice its current size, with four large courtyards. These plans were never realized, partly due to the city's fortification wall that bordered the building to the north and hindered its expansion.