The Margaret Bridge was the second permanent bridge in Budapest across the Danube. The bridge, originally built between 1872 and 1876, links Margaret Island with Pest and Buda.

Both the bridge and the island it connects with the mainland are named after princess Margit (Margaret), the daughter of King Béla IV. In 1241 the king promised to send his daughter to a convent if he were to defeat the invading Mongols. He kept his word and built a convent on the island where he put his daughter in confinement.
History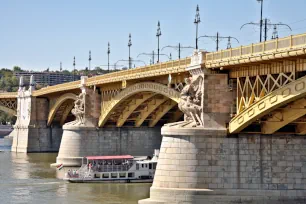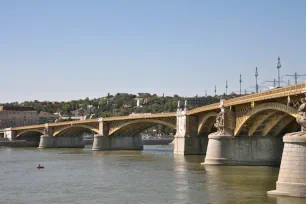 After the success of the Chain Bridge, which had proven to be a catalyst for economic growth in Budapest, plans were made for the construction of a second bridge across the Danube. In 1871 a competition was organized to build a new bridge near the southern tip of Margaret Island.
A design by Ernest Goüin, a French civil engineer, was chosen out of a total of forty-three entries. Construction started in 1872 and the bridge opened to traffic four years later. In 1899-1900, a branch was built to connect Margaret Island with the bridge. Until that year, the only way to reach the island was by boat. Between 1935 and 1937 the deck of the bridge was widened by about five meters.
In November 1944 members of the German Wehrmacht placed explosives on the bridge in preparation for their retreat. The sappers accidentally detonated the explosives during rush hour, resulting in the death of hundreds of civilians. The bridge was reconstructed shortly after the war; the east section opened in 1947 and a year later the bridge was fully completed.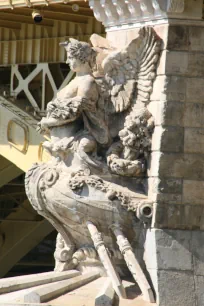 Architecture
The Margaret Bridge has a length of more than six hundred meters. Six steel spans with a lattice structure rest on massive pillars. The bridge was built by the 'Société de Construction des Battignoles', the Parisian construction firm of Ernest Goüin, who was one of the pioneers in the construction of metal bridges. One of the most notable aspects of the bridge is its strange v-shape: the bridge has an angle of 165 degrees at the point where it branches off to Margaret Island.
The bridge's pillars are decorated with massive statues of galley prows, created by the French sculptor Adolphe Martial Thabard, a student of Francisque Duret. The prows are adorned with large figureheads in the shape of winged female figures. The central pillar is decorated with a commemorative plaque. Above the plaque is a relief of the Hungarian crown flanked by two obelisks.