Budapest's East Station is the largest of the three international railway stations in Budapest. The nineteenth-century building has an imposing front facade defined by a huge elliptical arch.
Construction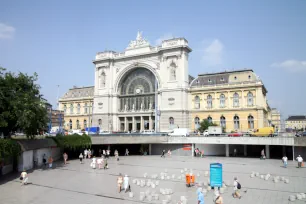 Built between 1881 and 1884, Budapest's East (Keleti) Station, was designed by Gyula Rochlitz and János Feketeházy. Located in the eighth district on Barros Square, the station was built in an eclectic style, borrowing elements from various styles of popular architecture of the time, including Neo-Renaissance. Its reception hall, designed by Gyula Rochlitz, is especially beautiful.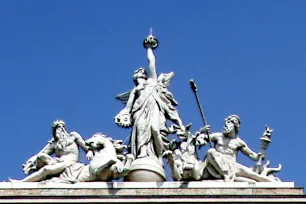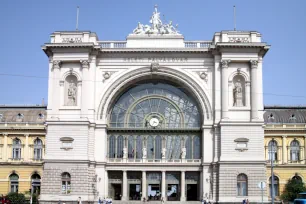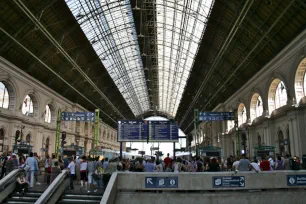 The Station
Impressive due to its elegance as well as its size, the station measured 93 meters (305 feet) long, with a platform length of 80 meters (263 feet), making it one of the largest of its time and certainly the biggest station in Budapest. The design of the building was inspired by that of the former Lehrter Station in Berlin, which was also dominated by an oversized triumphal arch.
The facade of the station is adorned with statues of James Watt and George Stephenson, crafted by sculptor Gyula Bezerédy. (Watt was a Scottish engineer and inventor who made changes to the steam engine to make it more efficient. Stephenson was an English mechanical engineer known as the "father of railways".) The magnificent murals inside the station are by Hungarian artists Károly Lotz and Mór Than. You'll find an abundance of gold leaf and other ornate touches inside the main hall, which has been beautifully renovated.
Railway hub
Of Budapest's three international railway stations (the others being Nyugati Pályaudvar and Deli Pályaudvar), Keleti Station is the largest and most important. Many of the intercity and international trains (including one to Vienna, which departs several times a day) arrive and depart here. The station is well-connected with the rest of the city thanks to the nearby metro station. There are also plans for a direct connection with Ferenc Liszt International Airport.