Of Budapest's three main railway stations, Nyugati Pályaudvar (West Station) is the most famous thanks to its use of glass and iron, an unusual departure from conventional nineteenth century railway station architecture.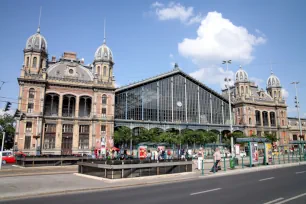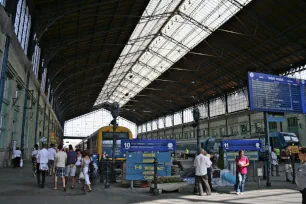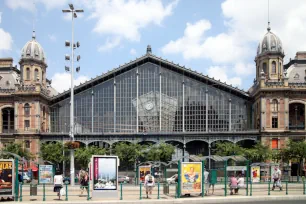 Thanks to the Austro-Hungarian Compromise of 1867, which created a dual monarchy, Hungary acquired more autonomy. As a result its capital, Budapest, gained more prominence and to reflect this grown importance, several large building projects were undertaken.
Among them the construction of new railway stations, in particular the West Station, completed in 1877 and East Station, completed in 1884. The names of the railway stations do not indicate their location in Budapest, but instead refer to the direction of the trains' destinations.
Construction
The new West Station was built at the site where in 1846 the first Hungarian train departed from a primitive train station to Vác. Construction started in 1874 and West Station opened just three years later. The structure made quite an impact, with a glass and iron pediment flanked by two monumental pavilions. The innovative design was created by August de Serres, who worked for the Eiffel Company of Paris (the company famous for building the Eiffel Tower and the Statue of Liberty).
The Station
The iron-framed hall is considered to be one of the best examples of the company's ironwork, typical of the late 1800s. The building measured over 6,000 meters square and 25 meters high (66,000 square feet and 82 feet) when completed, which made it the fifth-largest train station in the world. For many years, it was also Europe's most modern railway station.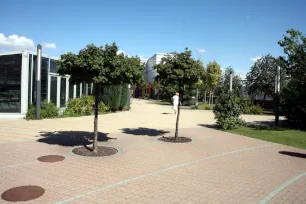 WestEnd
Underground, the station is connected to one of Budapest's largest shopping malls, WestEnd. The mall, which boasts some four hundred stores, features an artificial waterfall and is covered by a surprisingly pleasant roof terrace garden.