Budapest's Great Synagogue is one the largest synagogues in the world. It is also one of the city's most distinguishable landmarks thanks its tall onion-domed spires.
Also known as the Dohány Synagogue, Budapest's grand Jewish temple was built between 1854 and 1859 based on plans by Viennese architect Ludwig Förster (in Hungary aka Lajos Förster).
Architecture
Great Synagogue
The synagogue is basically Moorish in style, with two tall towers that make it easily recognizable throughout the Pest section of the city. Observant tourists will also find some Byzantine, Gothic, and Romantic elements in the architecture of the synagogue.
The building is 53 meters (174 feet) long and about half as wide. It contains 2,964 seats (1,492 for men and 1,472 in the upper women's galleries), making it the second largest Jewish synagogue in the world after New York City's Temple Emanu-El. The brick work on the outside is colored in yellow and red. A rose stained-glass window sits over the main entrance and the two octagonal towers on either side soar to a height of 43.6 meters (143 feet) and are capped by copper domes.
Interior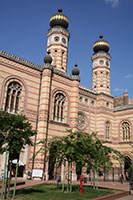 The interior of the synagogue was designed by Frigyes Feszl and is quite colorful and ornate. Strangely, Budapest's Great Synagogue is home to a huge pipe organ, more often found in Christian churches than in Jewish temples. This grand organ contains about five thousand pipes and was built in 1859. Great composers, such as Franz Liszt and Camille Saint-Saëns, were known to have enjoyed playing this instrument and today it is often used for concerts.
The structure was heavily damaged during the Second World War and was restored in the 1990s, after the fall of the Iron Curtain.