Gerbeaud is a famous confectionery housed in a stately building on Vörösmarty Square, in the very heart of Budapest. It is popular with tourists and locals alike, who come here to relax with a cup of coffee and delicious pastry.
History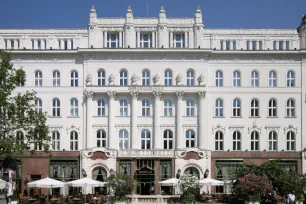 In 1858 Henrik Kugler, descendant of a confectionery family, opened his own establishment on József Nádor Square. It soon gained popularity for its coffee, liquors, ice cream, bonbons and other treats. In 1883 Kugler invited the young Swiss confectioner Émile Gerbeaud to become his partner.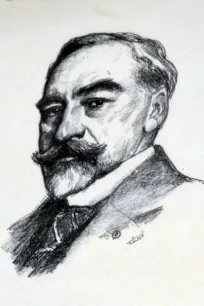 Gradually, Gerbeaud took over the business from Kugler. Gerbeaud made a name for himself with his original recipes, which received many awards at exhibitions across Europe. Under his leadership, business grew fast and at one point he employed almost 150 employees.
Gerbeaud also introduced the idea of making a visit to the confectionery an experience. In 1910, he had the whole interior redecorated in Parisian style. He also insisted on only making pastries of the highest quality, served on silver trays or wrapped in stylish custom-designed boxes.
Gerbeaud House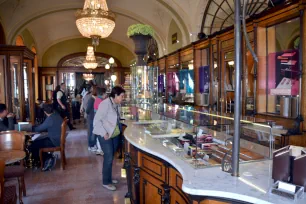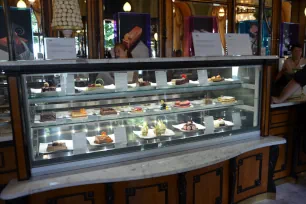 The confectionery is housed in the Gerbeaud-Ház (Gerbeaud House), which occupies the north side of Vörösmarty Square. The building was originally erected in 1861 as the headquarters of the Pesti Magyar Kereskedelmi Bank. In 1870 Henrik Kugler moved into the ground floor of the bank building.
Gerbeaud-Ház was designed by József Hild, who was also responsible for the initial plans for the St. Stephen's Basilica. Hild created a monumental, albeit elegant front facade. The central section, dominated by a row of large Corinthian columns, is subtly decorated with ornaments such as mascarons and festoons.
The magnificent interior is from a later period and recalls the grandeur of the early twentieth century. It was decorated by Henrik Darilek in a mixture of Art Nouveau and Rococo styles. Visitors sit at marble tables in a classy surrounding with grand chandeliers and stuccoed ceilings.
Gerbeaud Today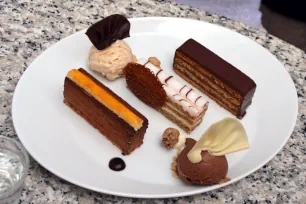 The Gerbeaud House was completely renovated in 1997 and its lavish interior is still as alluring as it must have been during its heyday in the early twentieth century.
Today, Gerbeaud is the most famous confectionery in Budapest. It is particularly popular with tourists who want to try one of the delicious pastry specialties, which are still made according to the original recipes created by Émile Gerbeaud. Besides a café, Gerbeaud now also has a bistro and restaurant, as well as catering services for events.