Füvészkert, the oldest botanical garden in Budapest, is a delightful three hectare large garden home to a variety of exotic plant species, from bonsai trees to orchids and palm trees.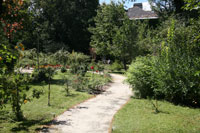 Füvészkert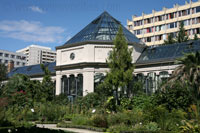 Palm House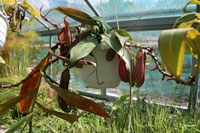 Carnivorous plants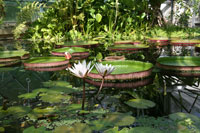 Giant Amazon Water Lily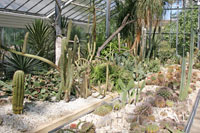 Cacti
Bust of Pál Kitaibel
The garden is a pleasant refuge in the bustling city and a welcome change from the many tourist-heavy attractions in the center of Budapest.
History
The garden's history goes back to 1771 when it was created by cardinal Péter Pázmány at the University of Trnava (now Slovakia). The garden was relocated several times until 1847, when it found a new home here at the domain of the Festetics family. Their house, a neoclassical mansion built in the early nineteenth century, now contains a library with a large herbarium and many historical horticultural books. The house also functions as the garden's administrative center.
The Garden
There are about seven thousand plant species on display at the botanical garden of Füvészkert. The garden's most iconic building is the Pálmaház, a nineteenth century palm house, with palm trees and other tropical plants from around the equator.
Nearby are more greenhouses with even more tropical and subtropical plants including all sorts of cacti, orchids and bromeliads. The Victoria House – a purpose-built octagonal greenhouse – is home to Giant Amazon Water Lilies. Just as interesting are the impressively large carnivorous plants that have been placed around the pool.
There are also several pools outside. Just north of the greenhouse is a rectangular pool with more lilies, and the delightful Asian garden is arranged around a small natural pond. The garden features Japanese cherry trees, a bamboo grove, and a fine collection of bonsai trees.
Some other notable areas in Füvészkert include the medical herbs and spice garden near the palm house and the taxonomic garden near the entrance, where plants are arranged according to their species and variety. At the center of the garden is an arboretum with some eight hundred different species of trees and shrubs.
A number of memorials in the garden honor historical figures in the field of botany and horticulture, such as the nineteenth century botanists Pál Kitaibel and Sámuel Diószegi.