The Vigadó, a nineteenth century concert hall, is one of the most beautiful buildings along the Danube. The elegant square in front of the Vigadó is laid out around a charming fountain.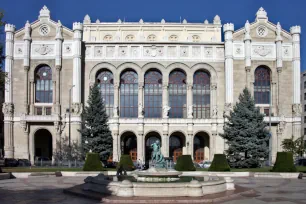 The Vigadó was built in 1859-1864 and replaced an older concert and amusement hall from 1833 that was destroyed by fire in 1848 during the Hungarian revolt against the Habsburg Empire. Vigadó is derived from the word vigádni which means having fun, being happy.
Design
The magnificent building was designed by Frigyes Feszl in a Romanticist style. The front facade is decorated with Hungarian folk motifs, crests, busts and statues of Hungarian heroes such as king Matthias and count Széchényi. Statues of muses decorate the pillars above the central arcade.
The interior is sumptuously decorated; the grand staircase is especially worth a look. Unfortunately, the building is not open to visitors; you'll have to visit one of the concerts to see the main hall, which can accommodate up to 640 spectators.
Vigadó tér
A small but beautiful square, Vigadó tér, links the concert building with Duna-korzó, a popular pedestrianized promenade on the Danube embankment. The centerpiece of the square is the Children's Fountain, which shows two joyful boys playing. The fountain was created in 1896 by the Hungarian sculptor Senyei Károly.