The Erzsébet híd (Elisabeth Bridge) is a graceful, slender bridge that spans the Danube river in Budapest. The Bridge was built in the 1960s to replace a beautiful iron bridge that was destroyed during the Second World War.

The bridge is named for Elisabeth of Wittelsbach, Empress of Austria and Queen consort of Hungary. The queen, who was widely admired and who is still affectionately known as Sissy, was murdered in 1898 in Geneva by an anarchist.
The First Elisabeth Bridge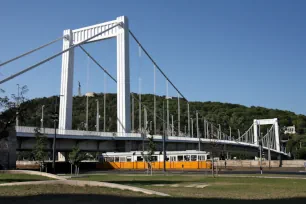 The Elisabeth Bridge was built between 1897 and 1903 as the fourth permanent bridge over the Danube in Budapest. It was an elegant iron suspension bridge with a span length of 290 meters (951 ft). Its design was similar to that of the then recently completed Franz Joseph Bridge (now Freedom Bridge), which was created by the same architect, Virgil Nagy.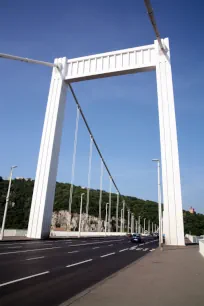 A New Bridge
When the Germans made their retreat to Buda in January 1945, they blew up the Danube bridges. All of them were rebuilt in their original form shortly after the war, except for the Elisabeth Bridge, which was deemed too heavily damaged to reconstruct.
The current cable bridge was designed in 1960 by the Hungarian engineer Pál Sávoly, who created a sleek white bridge that rests on the foundations of the original bridge. In contrary to its predecessor, the current modern looking bridge is completely devoid of ornamentation. The bridge has nonetheless a graceful appearance thanks to its slender pylons and cables.
Elisabeth Monument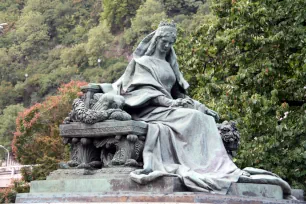 In 1932 a bronze monument of Queen Elisabeth, designed by György Zala, was installed near the Elisabeth Bridge on the Pest side of the Danube.
The fact that it was erected fifteen years after the end of the dual monarchy speaks volumes of the esteem the Hungarians had towards the spouse of Emperor Franz Joseph. Elisabeth was not only good-looking and down to earth, but she also spoke Hungarian, which undoubtedly helped her popularity.
Socialists – who saw her as a symbol of the Habsburg reign – later moved the monument to a remote area. In 1984 the beautiful monument was once again placed near the bridge, but this time on the other side of the Danube, in a small park near the bridgehead.