Elisabeth Square, one of the largest green spaces in central Pest, was expanded in the early 2000s and now borders busy Déak Ferenc Square. The square's most interesting sight is the monumental Danube Fountain.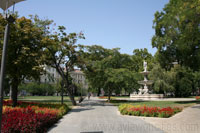 Elisabeth Square
The square consists of two very different areas. The west part of the square has a history that goes back many centuries, while the east part was only created recently, around the turn of the twenty-first century. They are separated by a former bus station, now a protected monument.
Danube Fountain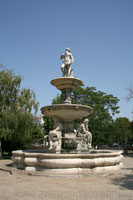 Danube Fountain
The old section of Elisabeth Square is the most charming, with a large central fountain and laid out with flowerbeds, walking paths and benches. Trees provide ample shade.
The main attraction here is the Danube fountain, a beautiful fountain built and designed by the Hungarian architect Miklós Ybl in 1880-1883. The fountain shows a statue of Danubius, who personifies the river Danube, standing on a dolphin. Below him are three female figures, allegorical representations of tributaries of the Danube: Tisza, Dráva and Sava. The statues were created by the Hungarian sculptors Béla Brestyánszky and Leó Feszler.
Cultural Center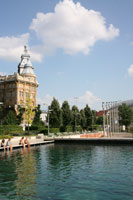 The pool
The west side of Elisabeth Square is more modern, with glass panels, open grassy areas and a pool. Until the 1990s this was merely a car park and plans were made to erect Hungary's new National Theatre here. Political struggles however halted the works, and eventually construction was abandoned when the government decided to build the theatre elsewhere.
The result was a giant pit that was only filled in years later, when a cultural center was built here in 2000. Since 2002 it has been home to the Gödör Klub, a concert and festival venue. The cultural center is located underground beneath a glass-bottomed pool.
Bus Station
Dividing old and new is a historical bus station, built in a functionalist style in 1948-1949 by the Hungarian architect Nyiri István, who was influenced by the Bauhaus style of the 1930s. Since 2004, the pavilion houses a design center, the Design Terminál.