Decades after its People's Theatre was demolished, Hungary's National Theatre Institute finally found a new permanent home in 2002 when the new National Theatre building opened at a site near the Danube river.
History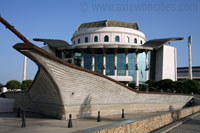 The National Theatre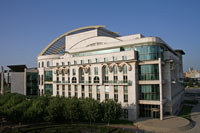 The theatre seen
from the Ziggurat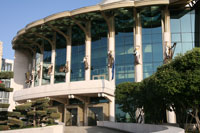 Front facade
A first national theatre opened in 1837 at Kerepesi út. In the early twentieth century it was replaced by the People's Theatre, a monumental neoclassical building located at Blaha Lujza Square, in the heart of the city. In 1963 it was decided that the building needed to be torn down for the construction of an underground metro station and the National Theatre moved to a temporary location.
In the early 1990s plans were made to build a new theatre near Erzsébet (Elisabeth) Square, close to where the former People's Theatre was located. These plans were never realized however and it would take until September 2000 before construction of a new National Theatre building started at a rather remote location south of the historic center.
Less than twenty months later, on March 15, 2002, the theatre opened to the public with a performance of Imre Madách's "The Tragedy of Man".
The Building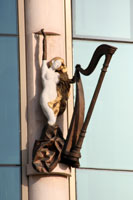 One of the muses
The theatre building was designed by Mária Siklós, who created a modern eclectic structure with references to historic architecture. The central facade has an arc-shaped glass frontage adorned with statues of the nine muses. A large curved frame on top of the building's roof creates the impression of a dome.
The theatre has three different venues of which the main auditorium, which seats 619 spectators, is the largest. The auditorium has a traditional layout, with three rows of balconies, even including three royal boxes. The main stage is 24 meters wide and has a height of 28 meters.
The Park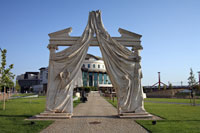 Garden Gate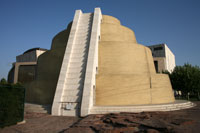 Ziggurat
The National Theatre Building is situated in a modern park designed by landscape architect Péter Török. The park is dotted with statues of celebrated Hungarian actors and a gate draped in a stage curtain, a creation by sculptor Miklós Melocco.
The most eye-catching element of the park is the mock bow of a ship that seems to cleave through the pond. In front of the bow, emerging out of the water, is a scale model of the classical front of the former People's Theatre.
The park is also home to a maze and the so-called Ziggurat, an exhibition venue that houses the gallery of the National Theatre. A spiraling ramp leads up to the top of the conical building from where you have a nice view over the surrounding area.