Hungary's Parliament Building is situated at Pest's riverbank. Built at a time when Hungary was still under Austrian influence, the magnificent structure is a symbol of Hungary's independence.

Dual Monarchy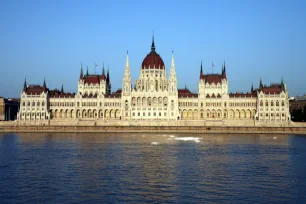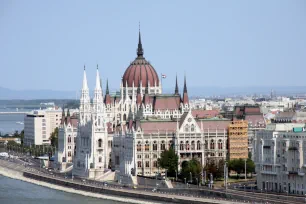 After the Austro-Hungarian Compromise in 1867, in which a dual monarchy was created, Hungary received more independence and the country wrote its own constitution. It also initiated the construction of a parliament building. A competition for this project was officially launched by Emperor Franz Joseph and prime minister Kálmán Tisza. A neo-Gothic design by Imre Steindl, inspired by the Houses of Parliament in London, was chosen as the winner.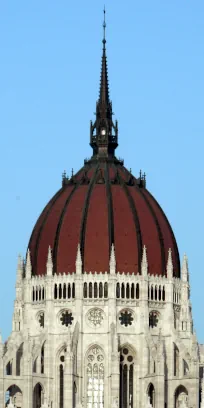 The Building
Construction of the Parliament House started in 1885. When it was completed seventeen years later, in 1902, it was the largest parliamentary building in the world with a length of 268 meters and a width of 118 meters (879×387 ft). The Parliament House is arranged around ten central courtyards and contains more than twenty kilometers of staircase, as well as 691 rooms. The building has twenty-seven intricately decorated spires. The impressive dome, visible from afar, reaches a height of 96 meters.
The building's facade is magnificent, decorated with eighty-eight statues of Hungarian rulers, pointed arch arcades and numerous gargoyles, spires and Gothic ornaments.
Interior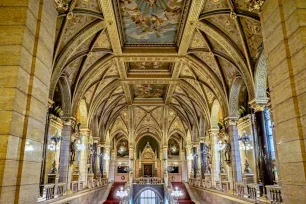 The interior of the Parliament House is as stunning as its exterior, decorated by some of Hungary's best artists. Here Neo-Gothic is mixed with Renaissance and even Byzantine influences, especially noticeable in the marvelously decorated staircase hall, with granite Corinthian columns, gilded ornaments and a huge ceiling painting by Károly Lotz.
Another interesting room is the circular Copula Hall, which features statues of Hungarian monarchs and an intricate, almost cathedral-like ceiling. The coronation crown and insignia of King Stephen are displayed here. The crown was originally given to St. Stephen for his coronation in the year 1000. The holy crown, as well was a scepter, orb and sword, were originally displayed in the National Museum but moved to the Parliament House in 2000. Only the coronation mantle is still on display in the museum.
In 1989 Hungary adopted a new constitution based upon a legislature with just a single chamber, the National Assembly. The assembly occupies the former lower chamber, while the similarly designed upper chamber is now used as a conference hall.